A few inexpensive ingredients and simple homemade touches are all you need for a spectacular, special occasion-worthy spread. Check out these smart tips to deck your board with festivity and flavor without breaking the bank.
Tip 1: For a classic, colorful centerpiece, make your own cranberry and herb cheeseball. Start with a container of spreadable cheese and form into a ball (use a sheet of plastic wrap to avoid messy hands). Roll the ball in a combination of finely chopped dried cranberries, parsley, and chives until thoroughly coated. Let sit at room temperature for 15 minutes before serving.
Cranberry and Herb Cheese Ball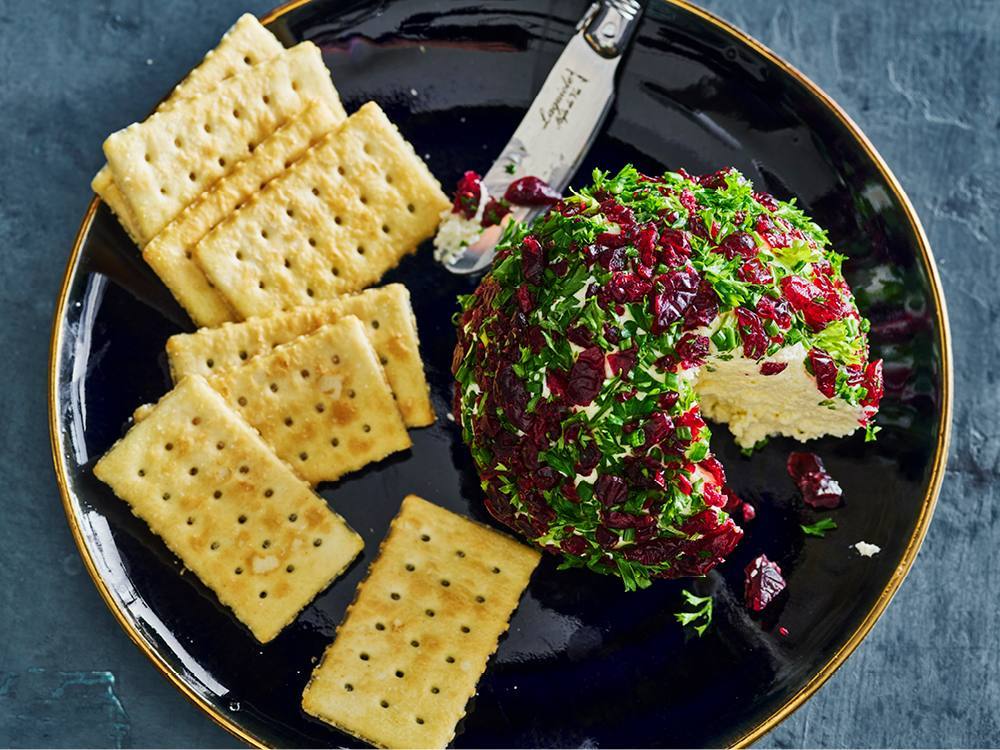 Tip 2: No need to buy pricey cheeses; inexpensive cheddar is always a crowd-pleaser. Skip the pre-cut cubes and save even more by cutting the block yourself.
Tip 3: Upgrade affordable goat cheese by rolling the log in herbs and spices, like dried thyme, dried oregano, or crushed rainbow peppercorns for a beautiful, flavorful crust.
Tip 4: Instead of mixed nuts, opt for snack mixes, which are often less expensive and just as delicious.
Tip 5: Give budget-friendly feta a flavor boost by marinating cubes in olive oil with herbs like parsley, oregano, or rosemary, and other seasonings like sliced chilis, crushed garlic, or lemon zest. Refrigerate overnight or up to three days.
Tip 6: Round out your board with other delicious items like fresh or dried fruit, pitted olives, and crackers.
Tip 7: Pair cheeseboard with a festive holiday beverage and enjoy!