Make your dollars go (much) further
Spending $100 at the store may seem like a lot, but think about what you're getting: A week's worth of breakfasts, lunches, dinners, and snacks for you and your family. It's easy to spend almost half that amount on a single takeout meal—one that's probably short on vegetables and not enough leftovers.

Think about this on an item-by-item level too. You might think a container of strawberries costs too much, but then spend the same amount or more on a bag of chips or a fancy coffee. Once you start to think about what you're really getting for your money, it's easier to make better choices.
Score savings wherever you find them
Shop store sales to save on what you buy most, freezing extras if you don't plan to use them that week. Use your store's circular (available online or at the store) to find even more discounts. Be sure to sign up for your store's loyalty program to receive exclusive offers as well. Many store-brand items will also cost less than other brands—look for these as you shop. Compare the unit price (the cost per ounce) to the retail price (the cost of the package). Often the bigger package is the better deal.
Become best friends with your meal plan
Meal planning is the secret to success when it comes to eating well while spending less. When you know what you're going to make, you won't feel that mealtime stress that has you reaching for the most convenient, more expensive, not-quite-as-healthy option. A plan gives every ingredient on your list a purpose so nothing goes to waste. You can also take advantage of store sales by incorporating them into your recipe choices for the week.
Get ahead and save money by checking out the Cook Once, Eat Twice related articles.
Make your kitchen your favorite takeout spot
The cost savings are huge when it comes to making your own version of favorites like chicken tikka masala, veggie fried rice, or pepperoni pizza. You also get to control the amount of salt and fat in your food and add veggies or make low-carb swaps as needed. Recreating these meals doesn't mean starting from scratch, either. Use shortcuts like jarred sauces, precooked rice, a frozen vegetable medley, or prepared pizza dough to save time.
Chicken Tikka Masala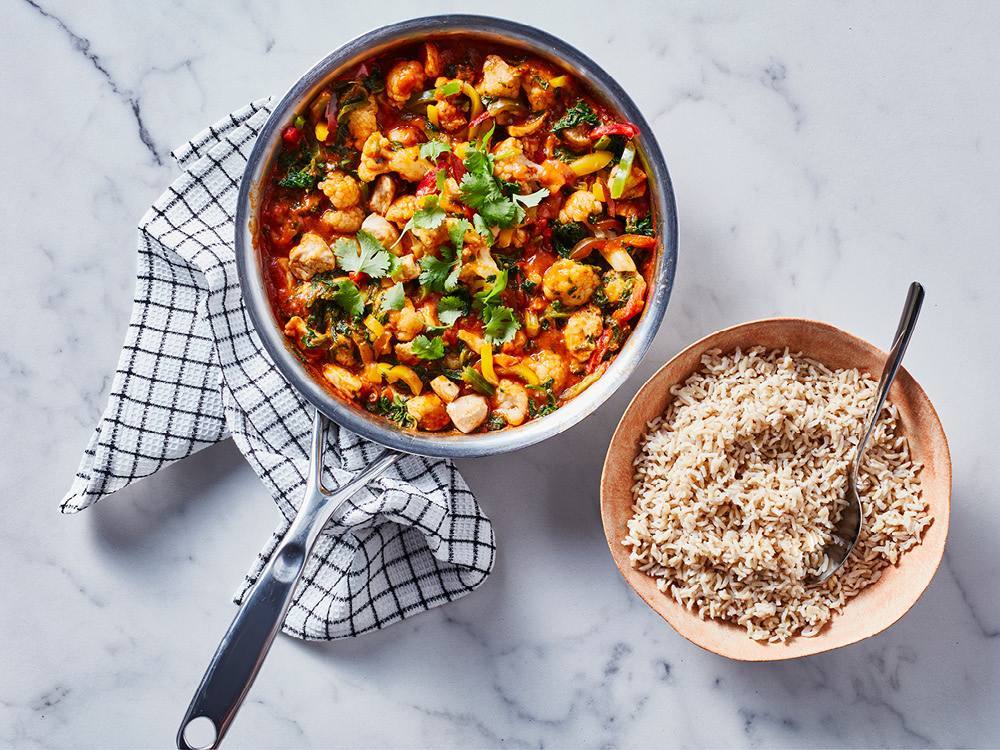 Shop your own pantry and freezer
Stock your pantry with affordable ingredients that can quickly turn a couple vegetables or a little protein into a satisfying meal. This includes canned beans, whole-grain pasta, canned tomatoes, canned tuna, nuts, brown rice, and quinoa. Stock your freezer with quick-cooking proteins like shrimp, chicken cutlets, or turkey meatballs. These ingredients will help you make last-minute meals for less that your family will enjoy and you'll feel good about serving.
Stock your freezer with 7 essentials for easy weeknight recipes found in related articles.
Pantry Pasta with Tuna and Peas