Reducing your carbon footprint can be an intimidating project to start. There are countless ways to help protect the environment, and some methods can be overwhelmingly expensive. We've collected 21 simple (and sometimes fun!) ways to encourage your family to change their habits. These small green tips are approachable and easy to implement, meaning you can add as many or as few as you'd like to make a positive impact. Whether you're at home or on-the-go, we've got you covered with smart changes you can make. Starting at the store is an easy way to build confidence and adjust your routine in a small but meaningful manner. Show your love for the planet with these 21 easy tricks! 
On-the-Go 
1.Learn What the Symbols Mean 

Understanding what each symbol means can help you figure out what products you want to be using. From Organic to Non-GMO, there's plenty of systems to help you learn. The HowGood® rating system analyzes each ingredient against environmental and social criteria, including farming practices, treatment of animals, labor conditions, and chemical use, and rates products. Products with this badge are within the top 25%, 15%, or 5% of all food produced in the U.S. You can find these online on each store website.  
2. Use Reusable Produce and Shopping Bags at the Store 
Save hassle and the environment by using reusable produce bags when you shop. No more struggling to open the plastic bags just to put away your apples! These bags are even machine washable, so there's no need to worry about any spills or stains. 
3. Be Smart about Running Errands 
Think ahead for the week and plot out what stores you need to run to so you can reduce your carbon footprint while driving. Certain mobile GPS apps even offer suggestions to save fuel with route suggestions based on your car engine. Additionally, making smaller and more frequent trips to the store can help you prevent food waste. 
4. Keep a Recycling Bin in Your Car 
Make going green a breeze while driving by keeping a small bin or bag in your car specifically for recyclable products. When the hectic week ends, we tend to clean out the car by just throwing everything in the trash. Set yourself up for success by adding this small system into your car routine so you don't even have to think about recycling! 
At Home 
5. Use Filters When Shopping Online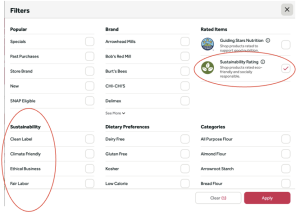 If you shop online, it's even easier to find your new favorite products. Use the website filters to show sustainably-rated products or even search by sustainability measures – such as clean label, climate friendly, ethical business, and fair labor. You can even research products ahead of time online to save yourself time in the store. 
6. Have a Fridge Clean-Out Dinner 
Try out new recipes to turn leftovers into upgraded family favorites – we've even pulled together some of our favorites for you! Or create a competition-style dinner challenge for the family to see who can be the most creative to come up with a meal only using what's in the pantry and fridge.  
7. Learn How to Properly Recycle 
Different areas have different rules when it comes to recycling. Make sure you're familiar with your own neighborhood's regulations when it comes to mixing materials and what can be recycled. Don't forget to make sure everything is rinsed and dry before putting it in the bin! Learn more about other proper ways to recycle and what to avoid here (link TK to 7 recycling mistakes to avoid article).  
8. Wash Clothes in Cold Water 
Many household-favorite detergents are now formulated to work as well in cold water as they do in warm water. Switching to cold water is not only better for the environment, but it's easier on your wallet and your clothes! Don't forget to check if your machine is high efficiency – look for the HE symbol on both your machine and detergent to save with even less water and detergent. 
9. Use a Reusable Water Bottle 
Disposable water bottles are one of the biggest forms of waste. Switch up your hydrating habit by using reusable water bottles. Make it fun for the whole family by having one in everyone's favorite color. Go one step further and grab some stickers to let everyone personalize their water bottle to the max! 
10. Unplug Devices that Aren't Actively Being Used 
Appliances and small devices that are plugged in but switched off still pull power. Save some money on your electric bill and help the environment by unplugging anything that you're not currently using. Don't forget to also switch off lights whenever you leave a room! 
11. Switch Up Everyday Items for More Sustainable Products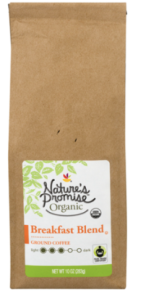 Certain products like coffee can have a negative impact on the environment. Don't be afraid to research what brands you're currently using and see if there's a greener alternative! You might even find a new favorite household staple. Nature's Promise ® coffee is fair trade certified, Organic, and has a sustainability rating within the top 15% of products in the country.  
12. Repurpose Leftover Jars into Storage 
Glass jars from your favorite products, such as jam, pickles, or even candles, can be reused once you've used it all. Get creative in your kitchen and all around your house with how you can use them – try storing utensils in the kitchen or pens on your desk. Make a DIY herb garden, use them as drinking glasses, or even paint them as part of a gift.   
13. Keep House Plants 
Test out your green thumb with this homey upgrade. Keeping house plants is a great way to improve your air quality, as well as add some life to a room. Be sure to research what plants best fit your home and lifestyle – how frequently they need to be watered, how much sunlight they need, and if they're safe to have around pets.  
14. Plant flowers that Attract Pollinators  
Once the weather is warm enough, don't forget about outside plants! Creating large groups of flowering plants is a great way to help the bees by optimizing each trip they take outside the hive. Mix and match different plants to have early- and late-flowering blooms to make sure our buzzy friends are happy all season long. 
15. Keep a Recycling Bin in the Bathroom 
While most of us recycle products in our kitchen, only 50% of beauty packaging gets recycled. Create a greener bathroom by keeping a small bin in there for recyclable products. Having a spot to put recyclable products is a great way to make sure the whole family properly disposes of empty bottles and containers. 
16. Switch to LED light bulbs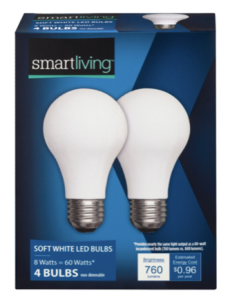 Make a small switch while you're at the store by grabbing LED light bulbs. They're more energy efficient, have a longer lifespan, and can work at low voltages. Getting bulbs in a soft white lite can also help create a cozier atmosphere.  
17. Use Greener Cleaning Products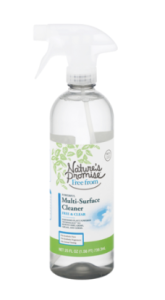 Go greener by cleaning! Swap out your cleaning products for more environmentally friendly versions, such as this Nature's Promise Multi-Surface Cleaner. It's 96% plant based and has no synthetic dyes or fragrances. You can also try mixing your own cleaner at home using vinegar and other household basics.  
18. Buy Compostable Disposable Products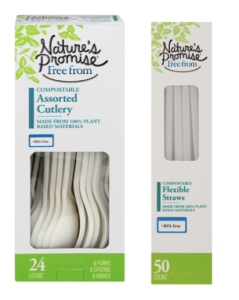 If you need disposable products to take on-the-go or for hosting a get-together, try buying compostable versions instead. Compostable products can take only several months for them to biodegrade instead of sitting in landfills for years on end. Both products shown are BPA-free, meaning you can feel good about bringing them into your home.  
19. Eat at Home 
Skip take-out and make dinner at home! Eating at home is not only healthier and more affordable, you also skip the waste of single-use disposable food containers and the emissions from driving. Find some of your favorite take-out recipes online if you're craving a family favorite. 
20. Start a "Go Green" Family Fund 
Make saving the environment a family game by starting a "go green fund." Look over your previous water, gas, and electric bills. Keep track of how much your family saves by using fewer resources and use the money saved on a fun family activity. 
21. Switch from Disposable Wrap to Reusable Containers for Storing Leftovers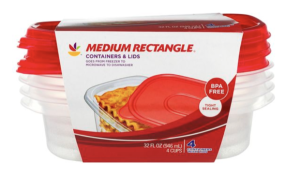 Go green by picking up reusable food storage containers for your leftovers. Instead of wrapping food in single-use plastic, store food in containers that can go right from the refrigerator to the microwave. Glass containers or BPA-Free plastic containers are safe for storing and heating food.