The smoky char of a grill can transform everyday produce into an unexpected, mouthwatering meatless main, side dish, or even dessert. Think outside the bun with these plant-based grilling recipes and bring bold, exciting flavor to your next BBQ.
Grilled Carrots with Harissa Yogurt Sauce. Harissa is an earthy, flavorful chili paste from North Africa. Mixed with creamy Greek yogurt and lemon juice, it makes an irresistible sauce for smoky, sweet grilled carrots. Set grill or grill pan to medium heat. Halve carrots lengthwise and toss with oil; season with salt and pepper. Transfer to a grill and cook covered, turning occasionally, until tender, about 7-8 minutes. Meanwhile, stir together yogurt, harissa, and lemon juice; season with salt and pepper. Spread a layer of sauce onto a platter, arrange grilled carrots on top, and serve garnished with almonds and parsley.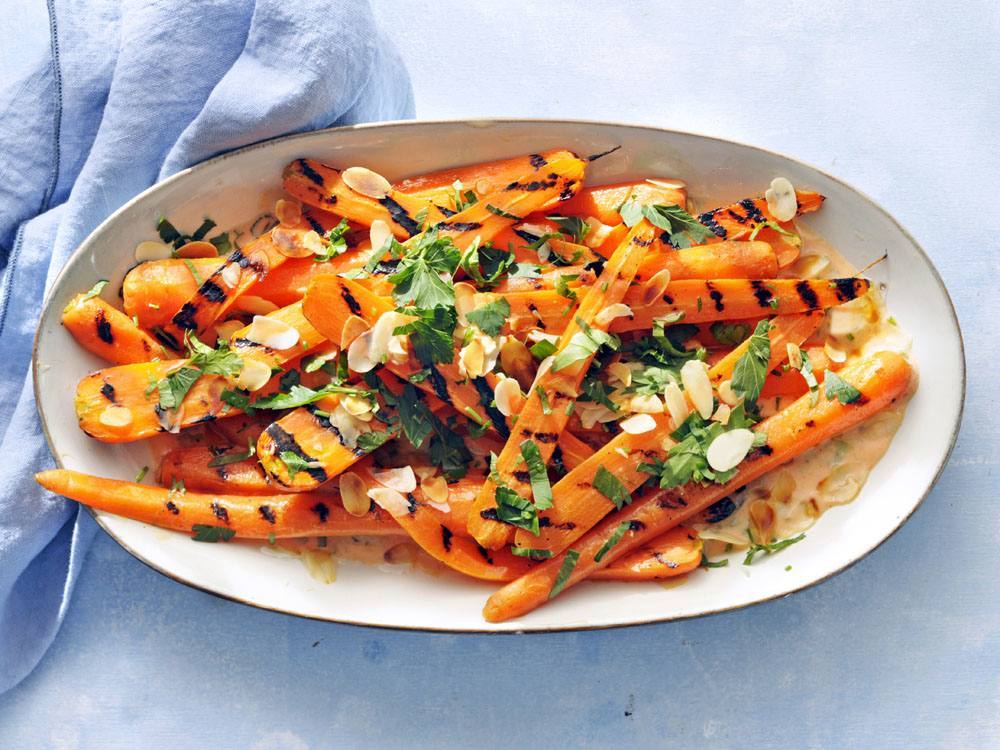 Grilled Cucumber Salad with Spicy Soy Vinaigrette. Grilling the cucumbers takes this Japanese-inspired salad to a new level. A slightly sweet, spicy vinaigrette brings complex umami flavor to this refreshing dish that takes only minutes to prepare. Set grill or grill pan to high heat. Quarter cucumbers lengthwise and brush or toss with 1 tablespoon sesame oil; season with salt and pepper. Place cucumbers on grill perpendicular to grate (to prevent cucumbers from falling through) and grill 3 minutes, turning occasionally. Transfer to a cutting board and let cool slightly. Meanwhile, in a large bowl whisk together soy sauce, vinegar, sriracha, sugar, and remaining oil; season with salt and pepper. Cut cooled cucumbers into 2-inch pieces and toss with vinaigrette until coated. Serve garnished with scallions and sesame seeds, if desired.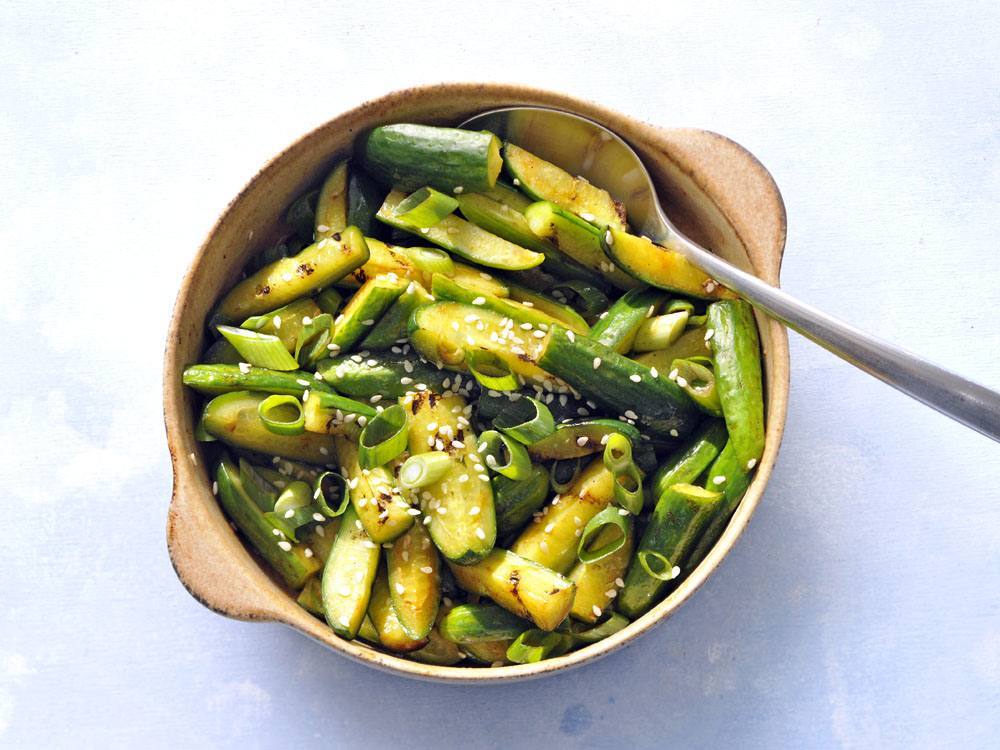 Pineapple-Strawberry Skewers
Nutritious, colorful grilled fruit skewers are a perfect kid-friendly summer snack or post-meal treat. Heat from the grill transforms a drizzle of honey into a sweet, smoky glaze that pairs well with the tangy acidity of pineapple and berries. Set grill to medium high heat. Alternating between strawberries and pineapple, thread fruit onto skewers (if using wooden skewers, soak in water for 10 minutes ahead of time to avoid burning on the grill). In a small bowl, stir together honey and oil. Brush honey mixture onto fruit and grill until softened with dark grill marks, about 4-5 minutes. Turn skewers occasionally while grilling and brush on additional glaze.