Tip 1: Choose a theme.
Give your party personality by incorporating a theme throughout. For a graduation, let the school's colors inspire the decorations. Go beyond paper plates with special touches like color-coordinated parchment wrappers, paper food trays, or cupcake liners to portion snacks.
Tip 2: Choose a portable, casual menu.
Backyard-friendly, no-fuss food can still be celebration-worthy. Serve a spread that can be enjoyed at any temperature, with an ice-filled cooler nearby to chill perishable items (anything with meat, dairy, eggs, or mayo) after two hours (or one hour on especially hot days). Handheld versions of traditional favorites, like the steak gyro and shrimp roll recipes below, say "Let's party!" while allowing guests to move around as they eat.
Tip 3: Pre-portion whenever possible.
Impress guests and keep serving easy by portioning food and drinks individually. Toothpicks or craft sticks work well for skewering small bites. Glass jars with lids are a perfect, portable vessel for both drinks and desserts.
Tip 4: Keep set-up and cleanup simple.
Sheet pans are a simple way to keep things organized. Load separate pans with items for each part of the party (for example: uncooked food for the grill, cooked food for the table, trays and napkins for serving) to cut down on trips inside. A waterproof tablecloth makes for quick cleaning when the party is over, just rinse off with a garden hose. Take care of trash by designating outdoor bins that can be filled at the table.
When it's time to throw caps in the air, you'll be ready to throw the party of the season with this affordable, outdoor-inspired surf n' turf menu.
Teriyaki-Glazed Cocktail Franks
Hot dogs go from basic barbecue to upgraded appetizer in this superfast recipe. Sweet-tangy teriyaki sauce works as both a glaze and dip for smoky grilled cocktail franks.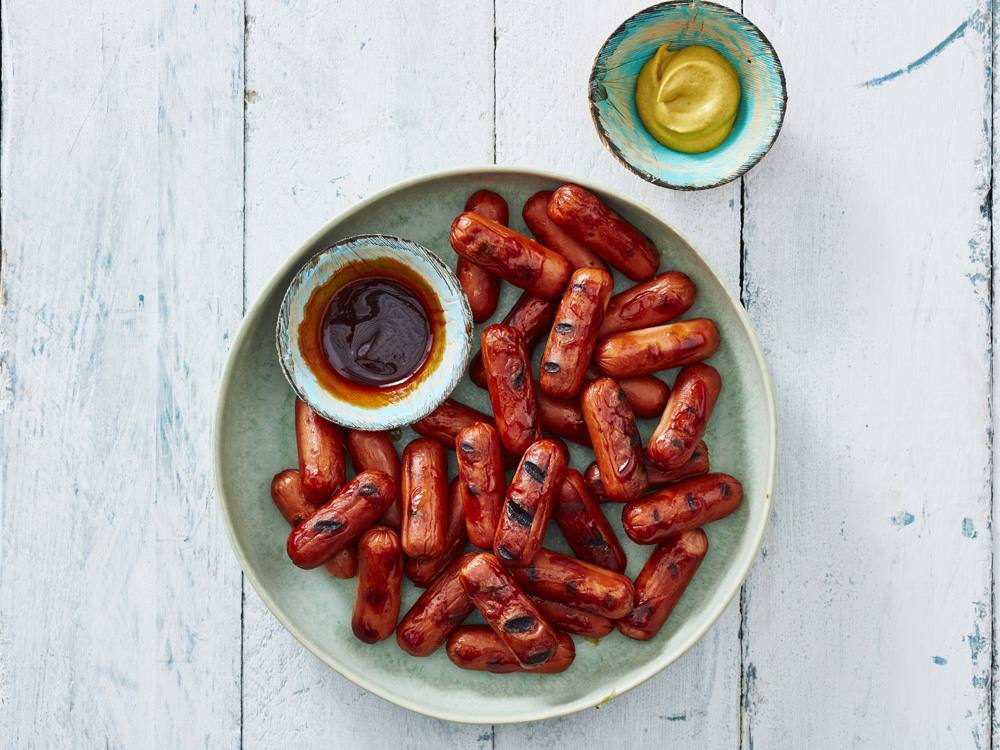 Mini Grilled Steak Gyros
Serve special occasion-worthy grilled steak without breaking the bank. Palm-sized skirt steak gyros topped with crunchy veggies and creamy tzatziki are easy to serve in individual parchment wrappers.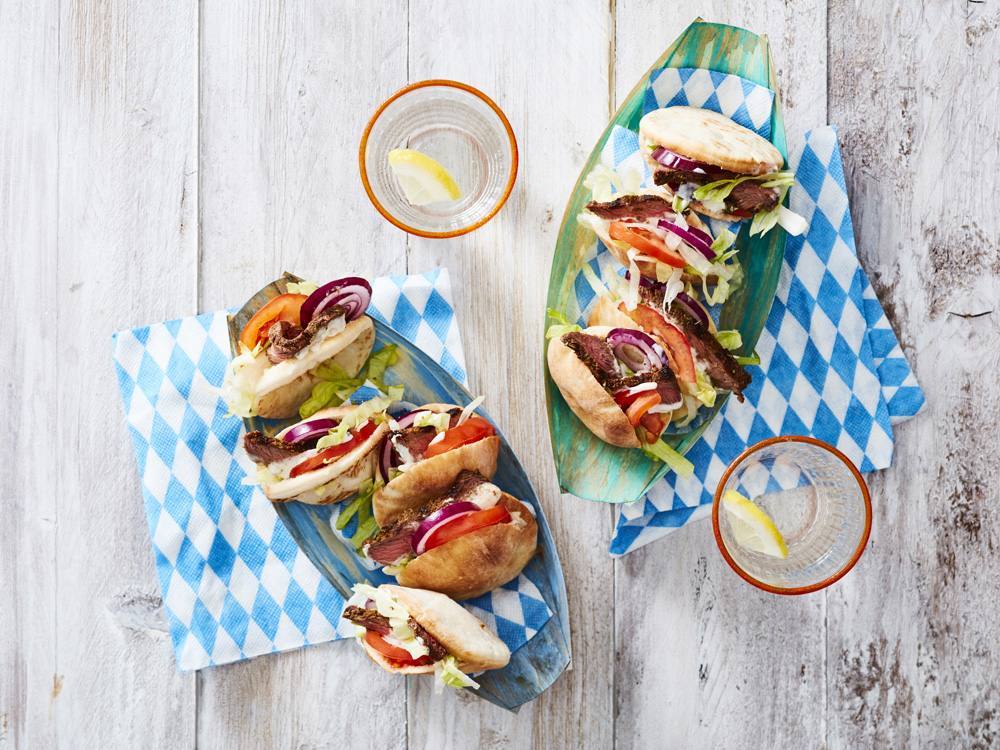 Buttery Shrimp Rolls
Turn your backyard into a summer seafood shack with luscious, 2-bite shrimp rolls. Old Bay, garlic, lemon, and chives bring major zing to affordable frozen shrimp served inside a buttery toasted bun.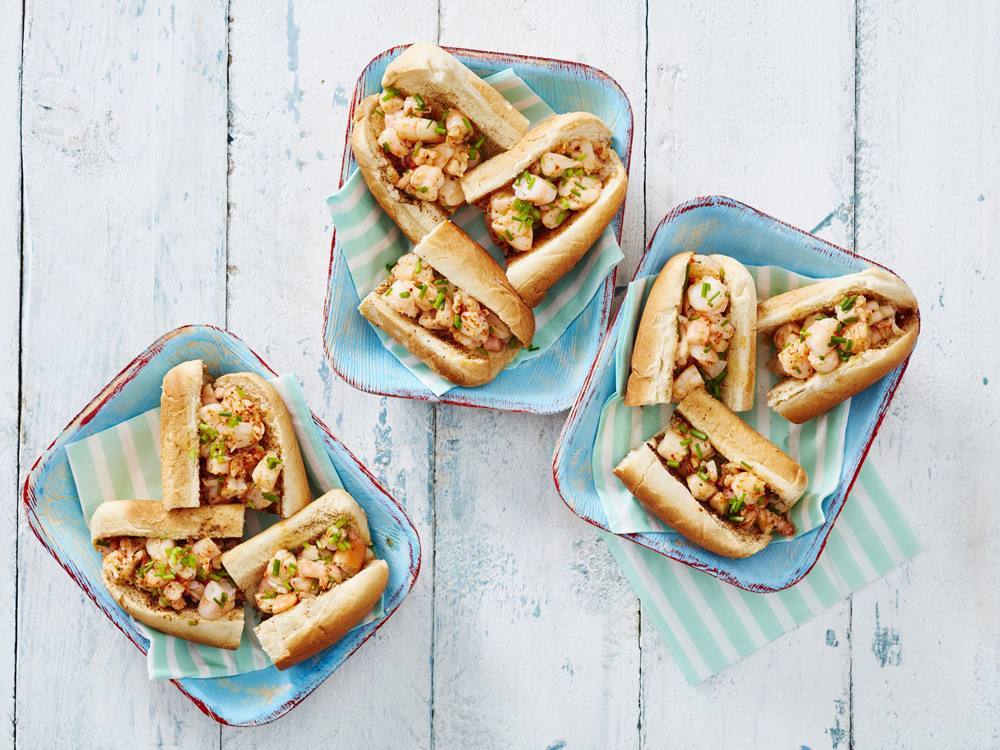 Farro Salad with Mustard Vinaigrette
Hearty grains like farro are perfect for outdoor dining because they can sit at room temperature without getting soggy. This nutty farro salad with snap peas, almonds, and creamy goat cheese is an explosion of tastes and textures tossed in Dijon-tarragon vinaigrette.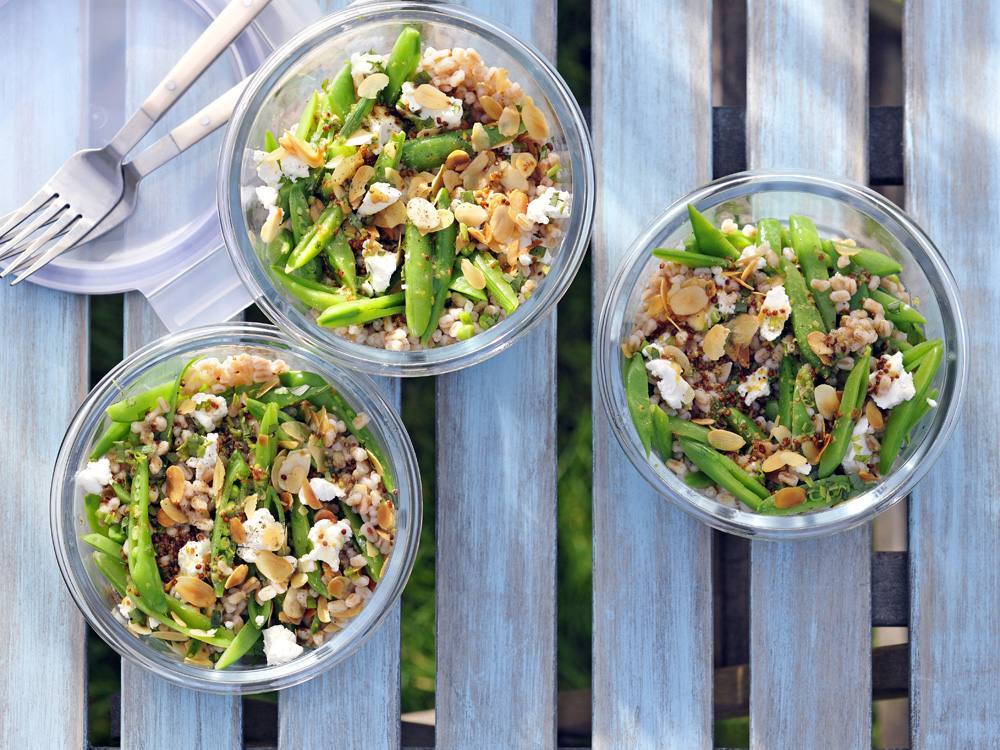 Raspberry Lemon Sorbet Floats
Cool down with a delicious drink and light dessert in one. Refreshing raspberry and lemon sorbets turn lemon-lime seltzer into a colorful, celebration-worthy sparkler.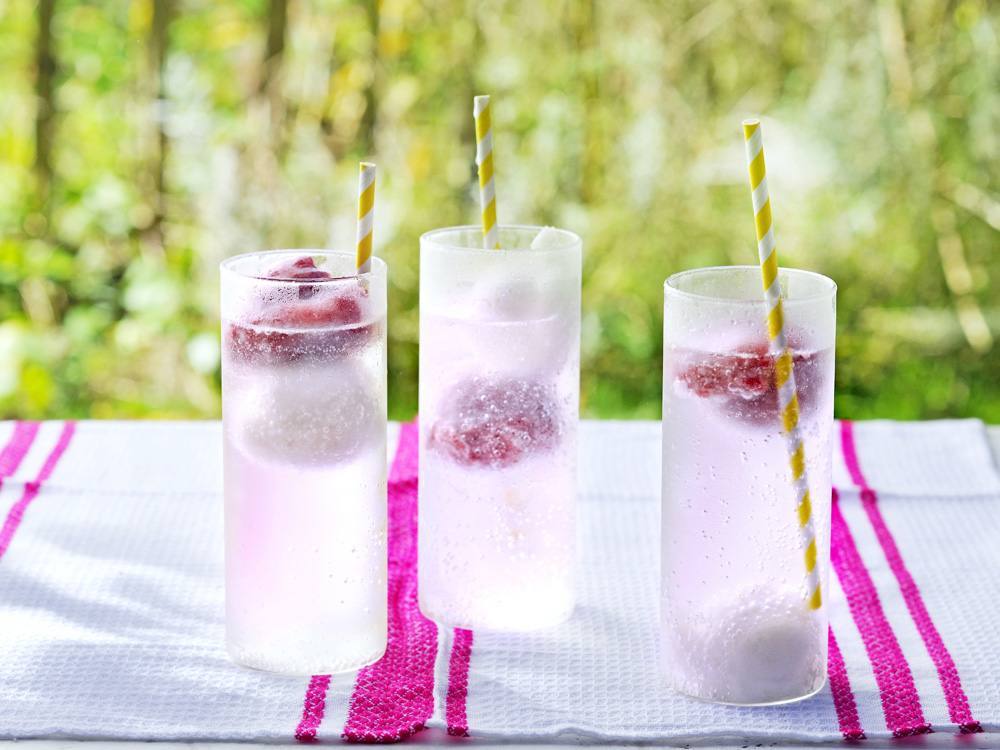 Individual Cherry Cheesecake Jars
Skip the serving platter, knives, and plates; these individually portioned cakes are made to be mobile. Adorable cheesecake jars with graham cracker crust and tangy cherries set up in the fridge, no baking required.