Feeling burnt out with cooking? Looking for some new dinn-spiration? Call in reinforcements!  
Cooking together with friends is a great way to bring more fun into the kitchen. It can also be a smart strategy for reducing the labor and cost of meal prep. Rather than dining out at a restaurant, consider making your next get-together a DIY event at home. You can knock out an amazing dinner as a group, or even meal prep for the entire week, without breaking a sweat or breaking the bank by dividing the prep work and cost of ingredients. 
A few tips to make your group cooking session a success: 
1. Choose a theme
Get everyone's creativity simmering by picking a theme for the evening and menu. The possibilities are endless – tropical staycation, plant-powered barbecue, Bollywood movie night, dinner in Paris – pick anything that sounds fun to the group. If weekly meal prep is the plan, choose a category that fits everyone's needs, like grab-and-go breakfasts, school lunches, or heat-and-eat dinners.
2. Choose a menu 
Whether each friend chooses a dish or one person suggests a complete meal, make sure everyone is on board with the plan. Dietary restrictions, food preferences, and cooking skill level can vary between guests. Selecting a menu together in advance ensures everyone can enjoy making and eating the meal. 
3. Divide and conquer
Once the menu is set, send around a list of ingredients. Check which items people already have in the pantry or fridge to avoid spending money on duplicates. Then, divvy up the remaining shopping list or designate one person to shop and then divide the bill. 
4. Make it a regular event
Keep the fun times and good flavors rolling by forming a cooking club. A recurring date to cook with friends means more opportunities to try new recipes, have more help in the kitchen, and more quality time together. That's what we call win-win-win. 
Ready to host your own supper-making soirée? Let one of these tasty recipes inspire your next cooking get-together. 

Crab Rangoon Dip with Wonton Chips
This deconstructed play on crab Rangoon is a perfect appetizer for MYOT (Make Your Own Takeout) night. Wonton wrappers crisp up into light and flaky chips for scooping a creamy dip made with imitation crab and two kinds of cheese. 
Get the recipe: Crab Rangoon Dip with Wonton Chips 

Beet and Goat Cheese Flatbread
Beets and goat cheese always play well together, so this eye-catching flatbread is perfect for making with friends. A crispy crust, store-bought pesto, and creamy ricotta level up this riff on salad to a hearty appetizer or handheld entrée.  
Get the recipe: Beet and Goat Cheese Flatbread 

Mediterranean Nachos
If an evening in the Mediterranean is on the agenda, you can't go wrong with these one-of-a-kind, plant-powered "nachos." Creamy tzatziki and hummus, olives, tomatoes, cucumbers, and feta dress up oven-crisped triangles of whole wheat pita. Tip: For an extra dose of protein and fiber, top with warmed chickpeas or cannellini beans.  
Get the recipe: Mediterranean Nachos

Jambalaya-Stuffed Peppers
Nothing says "party time" like classic Southern jambalaya. This version, which clocks in under 300 calories per serving, puts the complete meal with chicken, veggies, and brown rice inside a vitamin-rich bell pepper. 
Get the recipe: Jambalaya-Stuffed Peppers 

Easy Homemade Potato Gnocchi
The whole gang will love getting their hands on these pillowy bites of homemade gnocchi that are a snap to make using instant mashed potatoes. Simply serve  with butter and fresh sage, or take your pasta party to the next level with a choose-your-own sauce station.  
Get the recipe: Easy Homemade Potato Gnocchi 

Air Fryer Fish Stick Tacos with Crema
If you've got that one friend who still hasn't tried an air fryer, these beachy fish tacos might convert them. Frozen fish sticks become extra crispy and irresistible inside warm tortillas with lime-spiked crema and crunchy veggie slaw. 
Get the recipe: Air Fryer Fish Stick Tacos with Crema 

Guava Empanadas
These palm-sized treats popular throughout Latin America are made for sharing. Mild queso fresco and sweet guava paste make the creamy filling inside a crispy pastry shell that cooks in the air fryer or oven. 
Get the recipe: Guava Empanadas 

Steak with Caper Butter
For a steakhouse experience at a fraction of the price, try this 15-minute showstopper. Pan-seared sirloin finished with caper and parsley butter is a special occasion-worthy main that's surprisingly simple to prepare. 
Get the recipe: Steak with Caper Butter 

Mint Chocolate Chip Cake in Jars
Send your friends home with a sweet treat that's perfectly portable, no doggy bag required. Ice cream-inspired layer cake with mint and chocolate is easy to make using box cake mix and individual mason jars.
Get the recipe: Mint Chocolate Chip Cake in Jars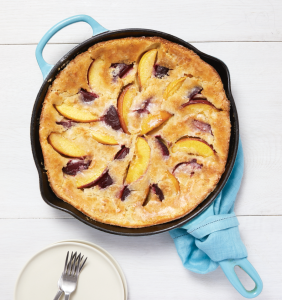 French Pudding Cake with Plums and Nectarines
Cap off an evening of French favorites with this easy take on clafoutis. Slices of fresh nectarines and plums (or swap in any stone fruit you like) add bright flavor and color to a simple vanilla-scented batter that cooks in a skillet.
Get the recipe: French Pudding Cake with Plums and Nectarines