Sheet pans have become the secret weapon of home cooks everywhere, revolutionizing the way we prepare dinner by cooking all the components in one dish without sacrificing flavor. However, they're capable of far more than just roasted meat and potatoes. With easy assembly and minimal cleanup, these 10 recipes will change the game for what you thought was possible on a sheet pan.
Sheet Pan Lasagna
Say goodbye to the hassle of layering individual lasagna noodles. This recipe brings all the flavors of a traditional lasagna onto a single sheet pan, which lets you get dinner for 10 on the table from start to finish in just an hour.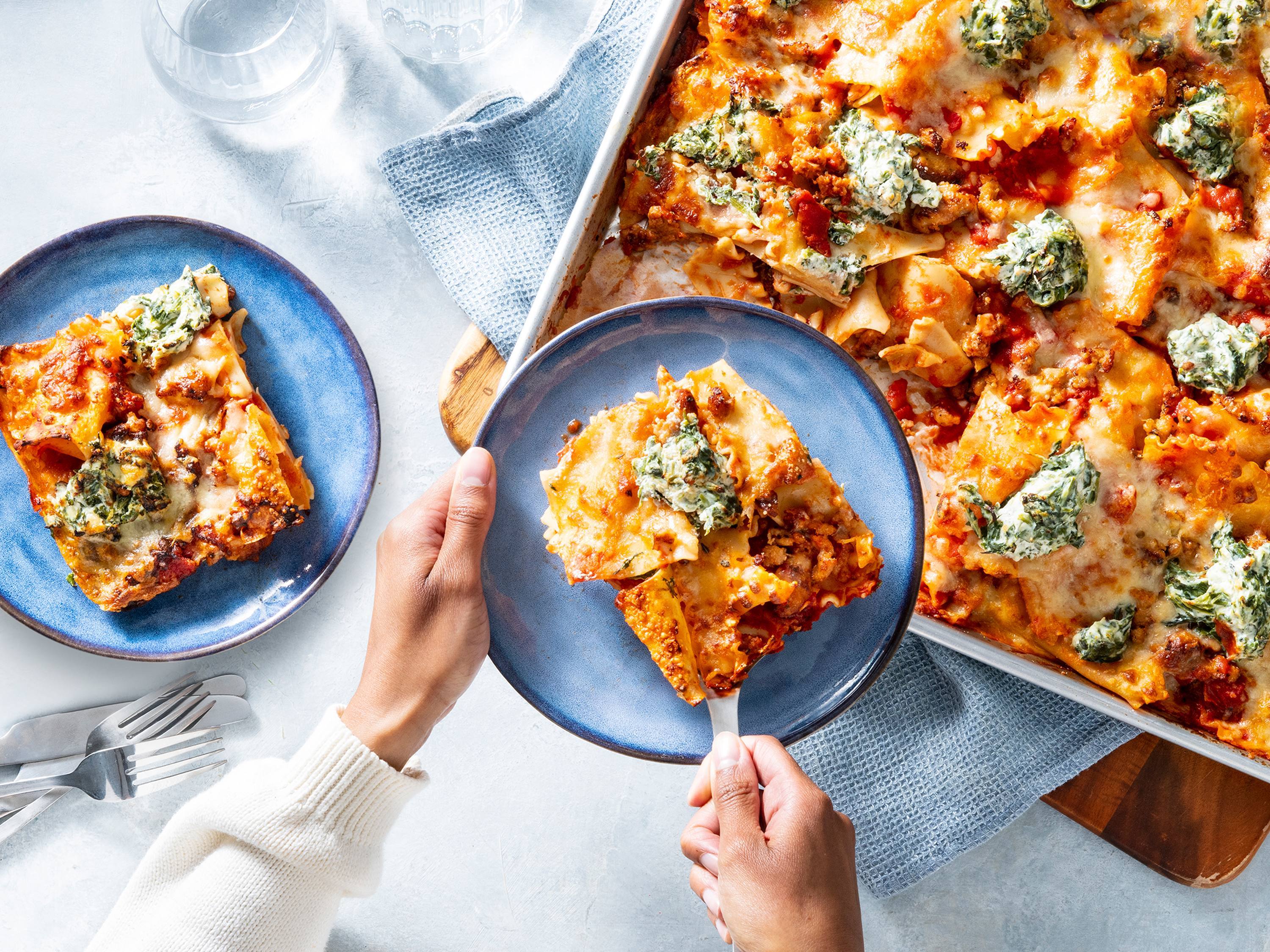 Southern Sheet Pan Grazing Board
On lazy days when you don't feel like cooking, this protein-packed pan full of Southern flavors has you covered. Shortcuts like pre-cooked eggs and store-bought chicken salad get this anytime-meal on the table in no time, while frozen mini ears of corn let you serve it year-round.
Sheet Pan Sausage with Apples, Cranberries, and Greens
Sausage often invokes ideas of grilling or making pasta sauce, but after trying this you'll always want to roast it. Here it comes together with tender apples, tart cranberries, and hearty greens to create a comforting and well-rounded fall dish. It's a fantastic way to incorporate seasonal produce (try replacing the apples with pears), and enjoy a simple delicious dinner with minimal cleanup.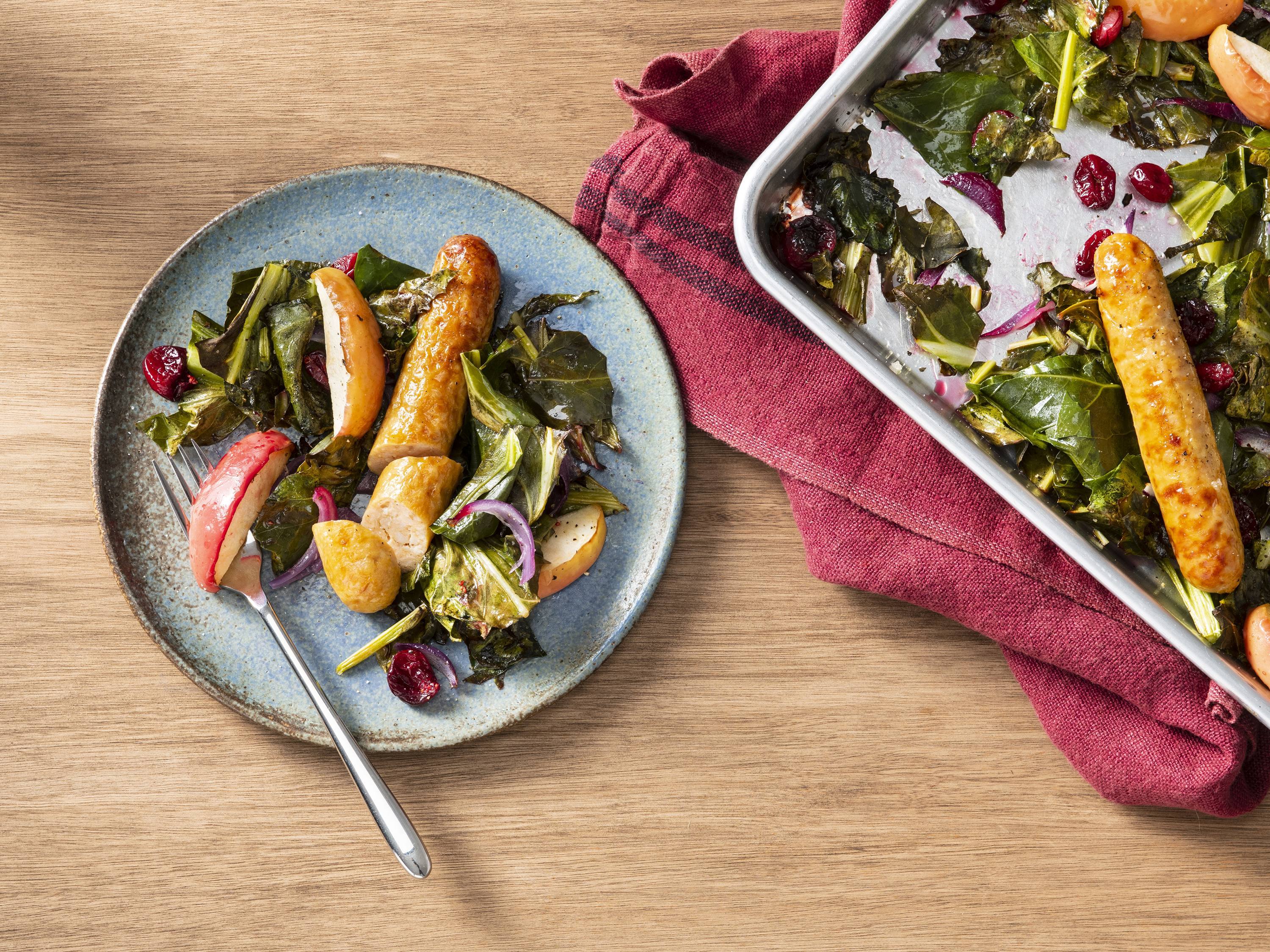 Family-Friendly Sheet Pan Nachos
Once you've made nachos at home, you'll never want to go back to the concession stand version. The pan's large surface area means plenty of space for strategic layering of spiced ground turkey, beans, and lots of cheese. Serving the fresh vegetables, sour cream, and salsa on the side allows everyone to customize to their heart's content.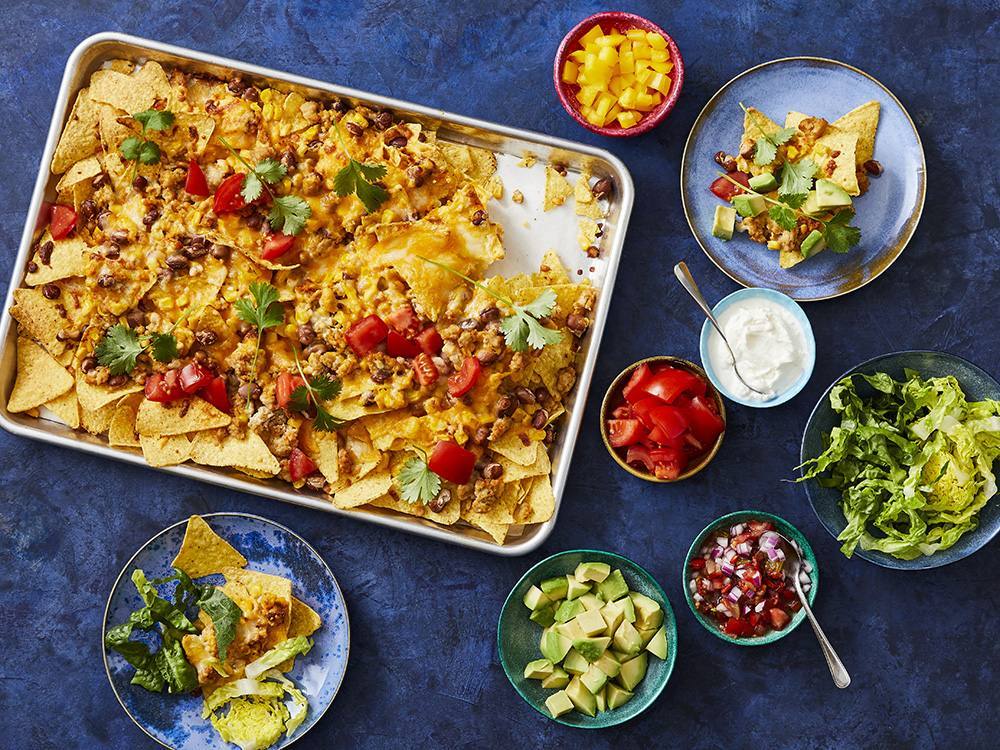 Sheet Pan Chicken Legs with Fennel, Dates, and Olives
Chicken leg quarters are an economical choice that cook faster than a whole chicken, and they can be fancy enough for a dinner party, too. The orange-rosemary marinade will fill your kitchen with aromas of the Mediterranean coast as it roasts, while the dates and olives give this recipe irresistible salty-sweet flavor.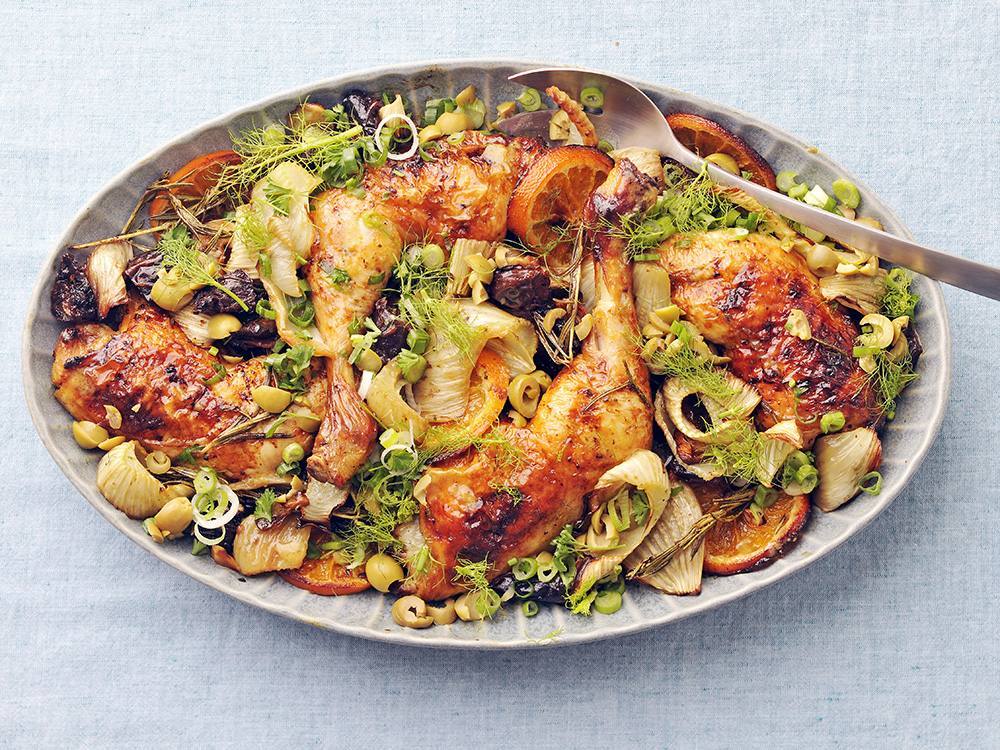 Sheet Pan Seafood and Chorizo Paella
This recipe brings the essence of a classic Spanish paella to your weeknight dinner table without all the fuss. Using your oven to boil the rice means most of the cooking time is hands off, and there's no stirring required. Loaded with shrimp, spicy chorizo, saffron-infused rice, and roasted red peppers, it's sure to become a new family favorite.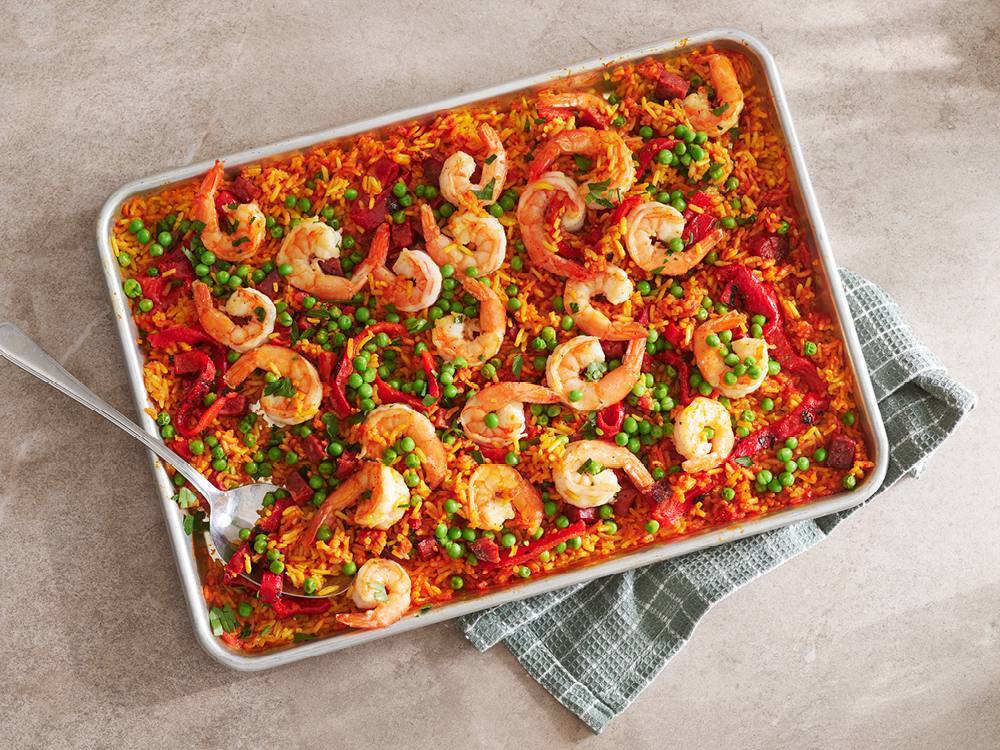 Sheet Pan Grilled Cheese with Apple and Dijon
Up the ante on traditional grilled cheese while cutting down on time at the stove. A sheet pan makes it prep ooey-gooey sandwiches with cheddar, Dijon, and crisp apple slices for the entire family at the same time.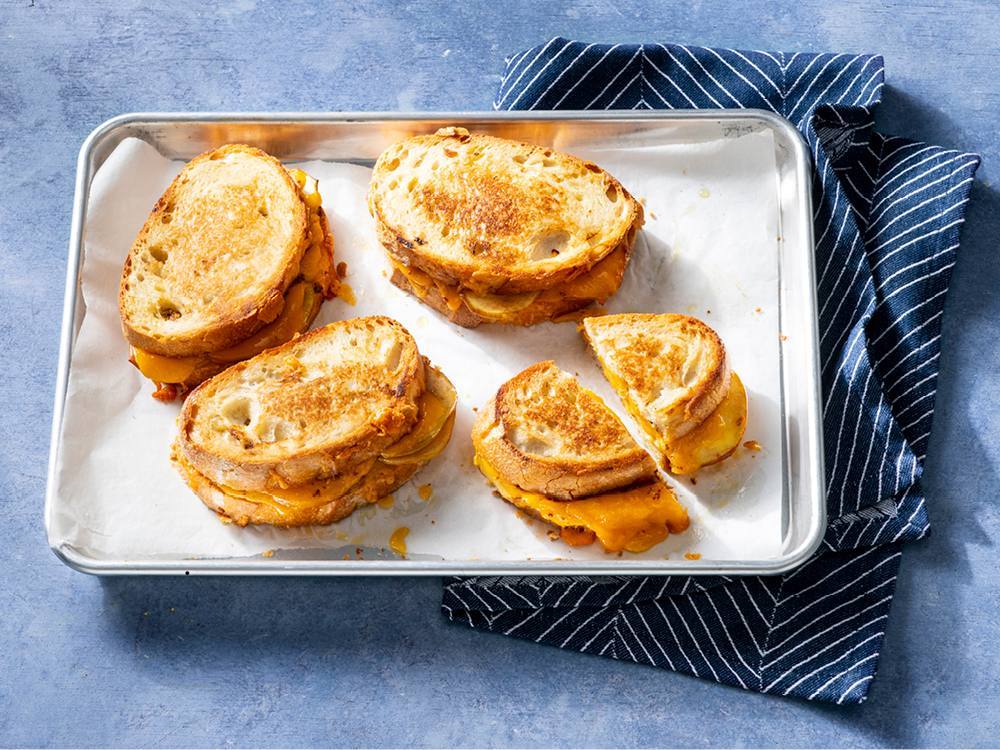 Sheet Pan Pork, Apple, and Arugula Salad
We love not having to wash extra dishes, so we're especially pleased to leave the salad bowl in the cabinet with this recipe. Instead, every step from cooking to assembling to serving happens on one pan. Tossing everything when it's still hot from the oven helps to coat the greens with delicious pan juices and meld all the flavors together.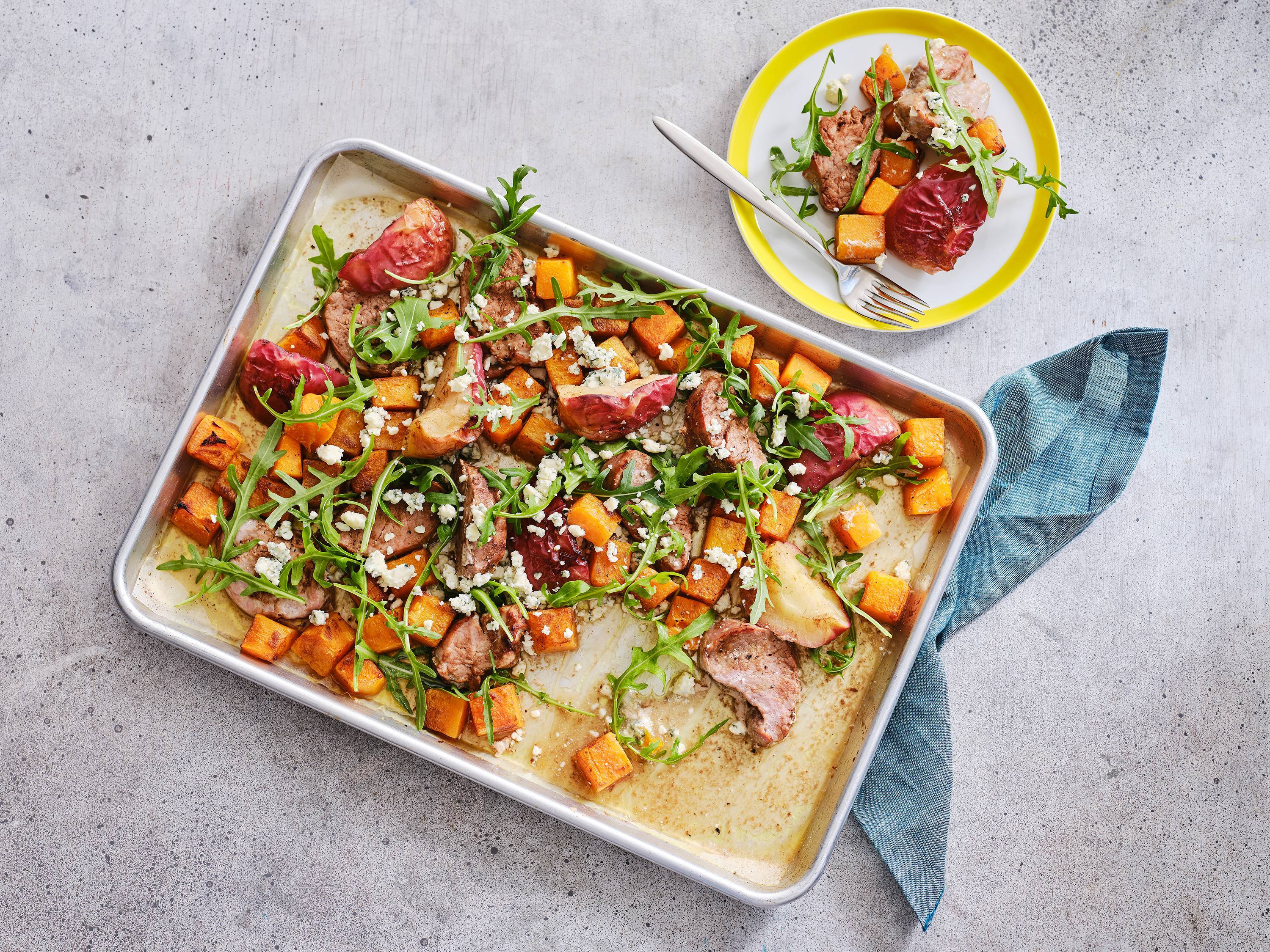 Sheet Pan Teriyaki Chicken and Ramen Noodles
Get ready for a game-changing twist on those ramen noodle packets in your pantry by transforming them into an entree instead of a soup. Once softened in warm water, they crisp in the oven and serve as the foundation for a hearty teriyaki chicken dinner. Prepare for everyone to battle over the crunchy corner pieces!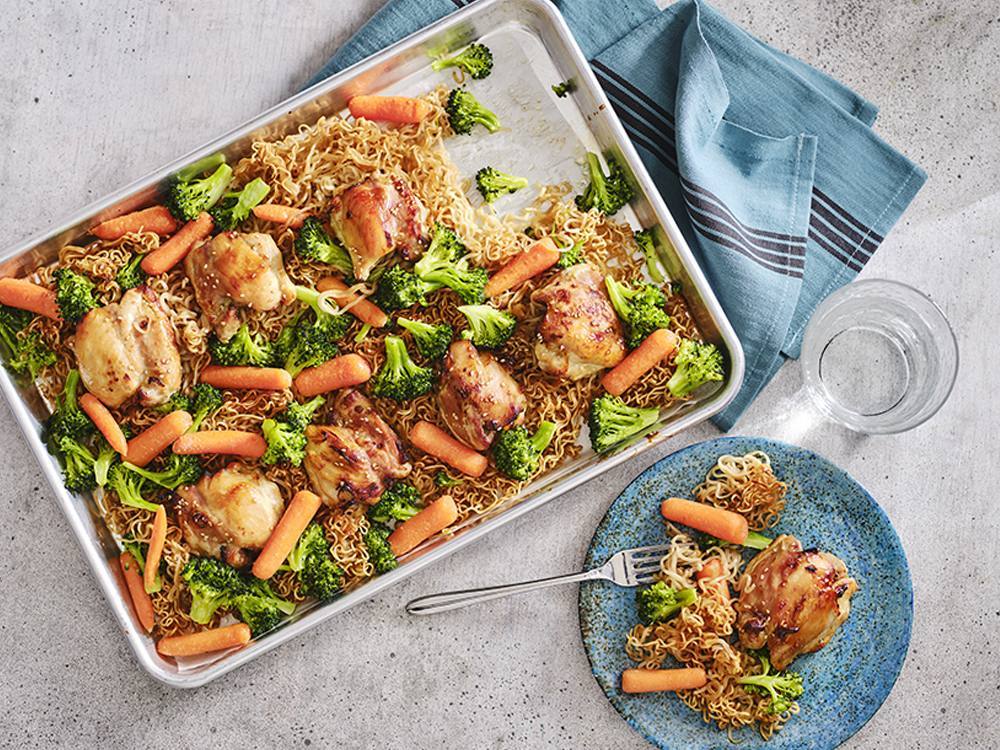 Pull-Apart Roast Beef Sliders
You'll never want to go back to your local deli once you try making these oven-baked sliders at home. What starts out as a classic roast beef sandwich goes next-level with a layer of sauteed peppers and onions and a garlic and herb butter glaze. Customize your own variations with any condiments and toppings you like for a versatile crowd-pleaser that comes together in a flash.