Grilled Plant-Based Burger with Pineapple
Tropical drinks are optional (but encouraged) with these plant-powered burgers full of Hawaiian luau vibes. Fresh pineapple and tangy teriyaki sauce add a sweet-savory punch to your favorite meatless burger patty.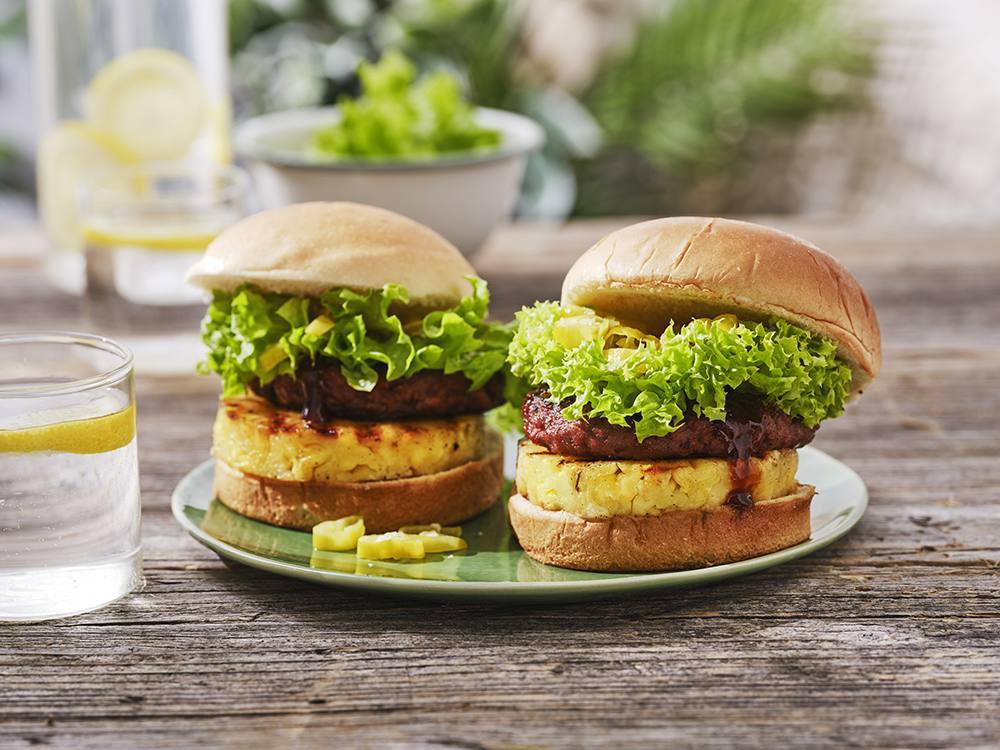 Grilled French Onion Burger
These one-of-a-kind burgers with a French accent are inspired by bistro-style onion soup gratin. Dried onion soup & dip mix adds savory oomph to beef burgers topped with melty Swiss cheese and umami-rich caramelized onions.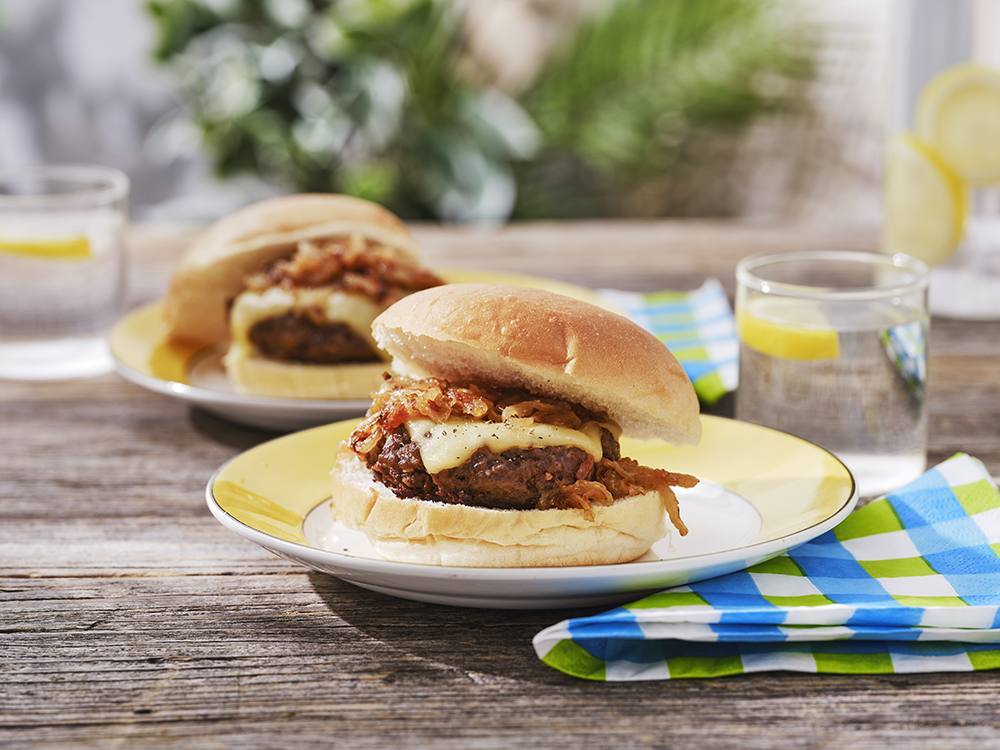 Grilled Chicken Parm Burger
Mama mia, you've never had chicken Parm like this before! Marinara sauce and mozzarella serve as both a tasty topper and mix-in for ground chicken burgers served hot off the grill with fresh basil and tomato.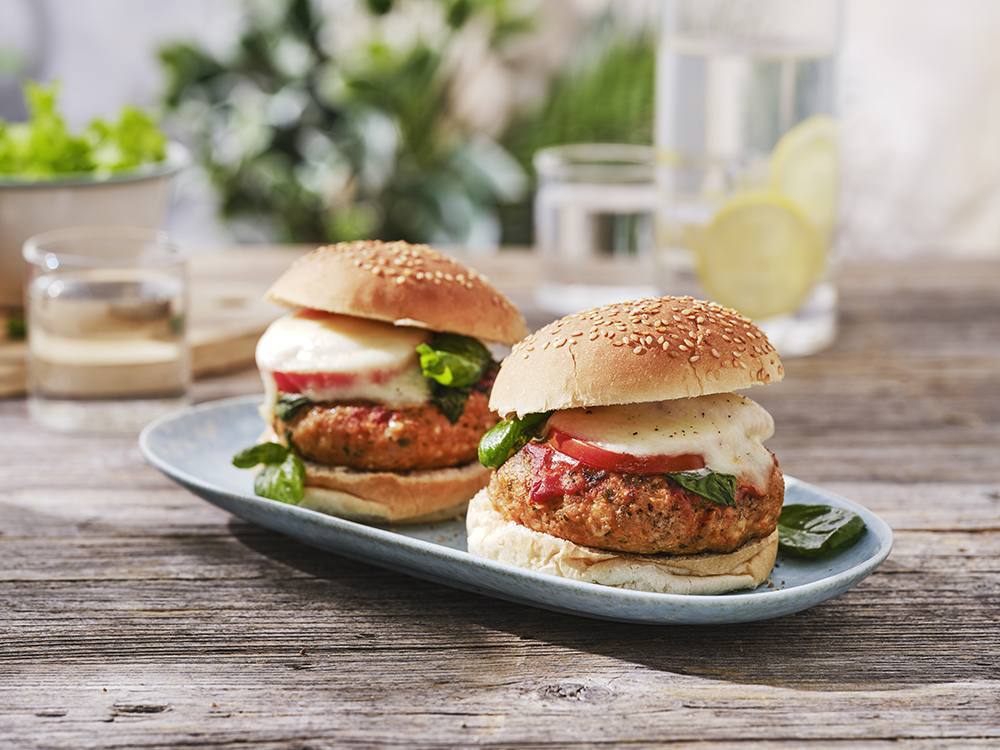 Herbed Salmon Burgers
Take a break from beef with protein-packed patties from the sea. Green onion and fresh dill add bright flavor and moisture to grilled salmon burgers with crunchy slaw served on brioche rolls.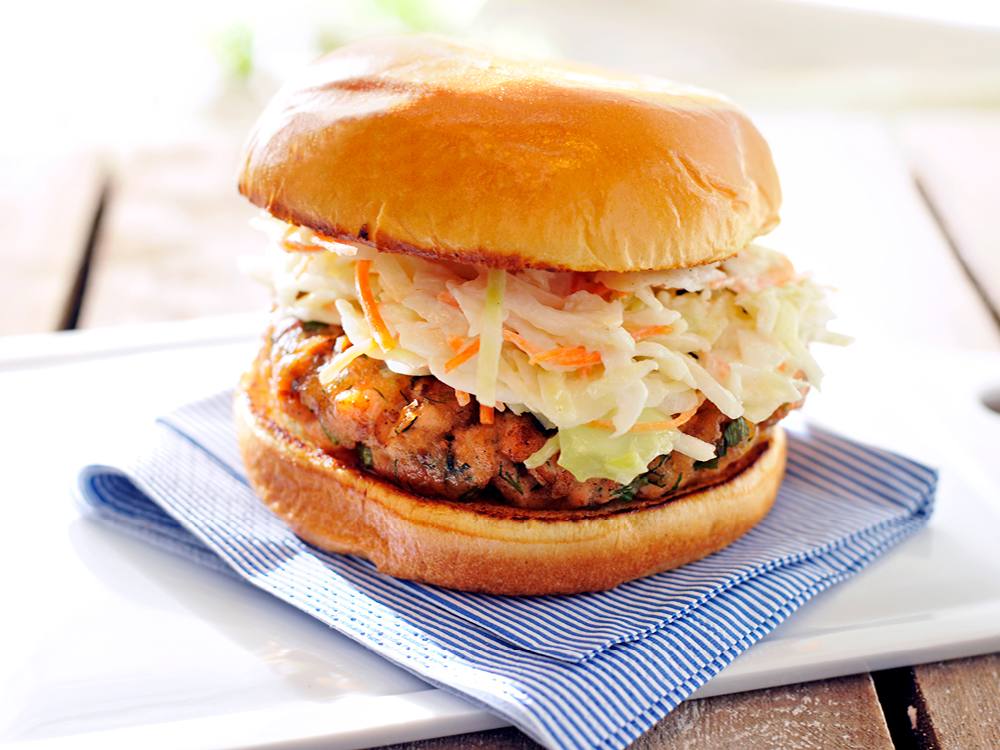 Bacon Mac and Cheese Hot Dogs
Three cheers for these decked out dogs with a trifecta of comfort food flavors. Grilled all-beef franks topped with smoky bacon and gooey mac and cheese will earn you a spot in the hot dog hall of fame.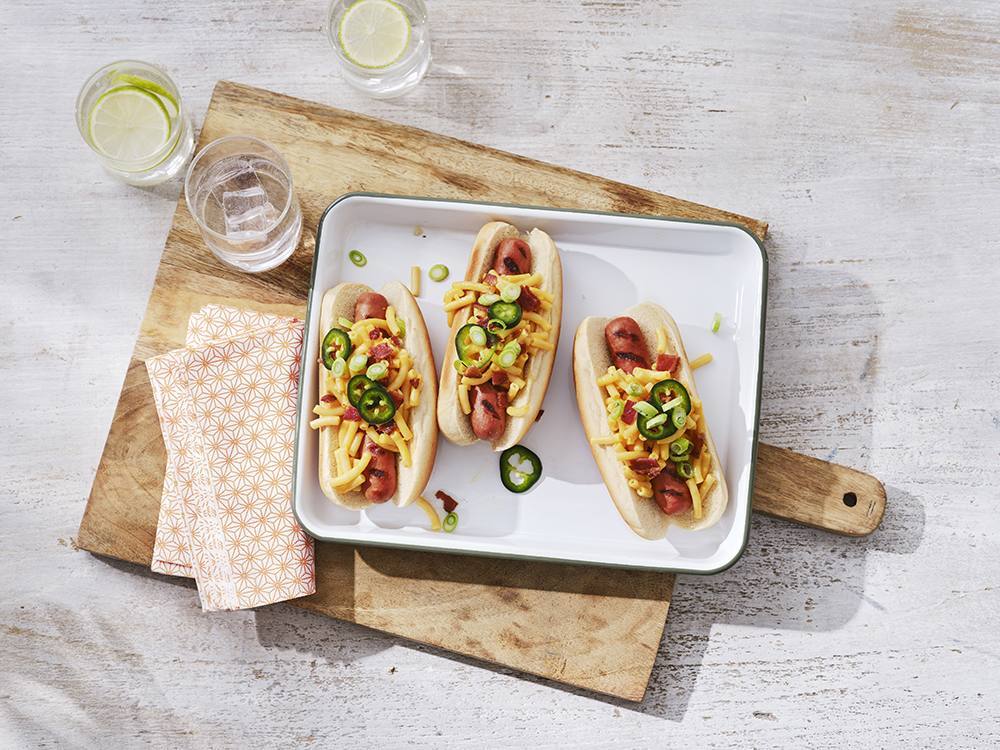 Buffalo Hot Dogs
We ditched the wings but kept all the fiery flavor you love in one easy-to-assemble bite. Turkey hot dogs loaded with Buffalo sauce, crunchy carrots, blue cheese, and ranch are a grill-ready take on pub grub.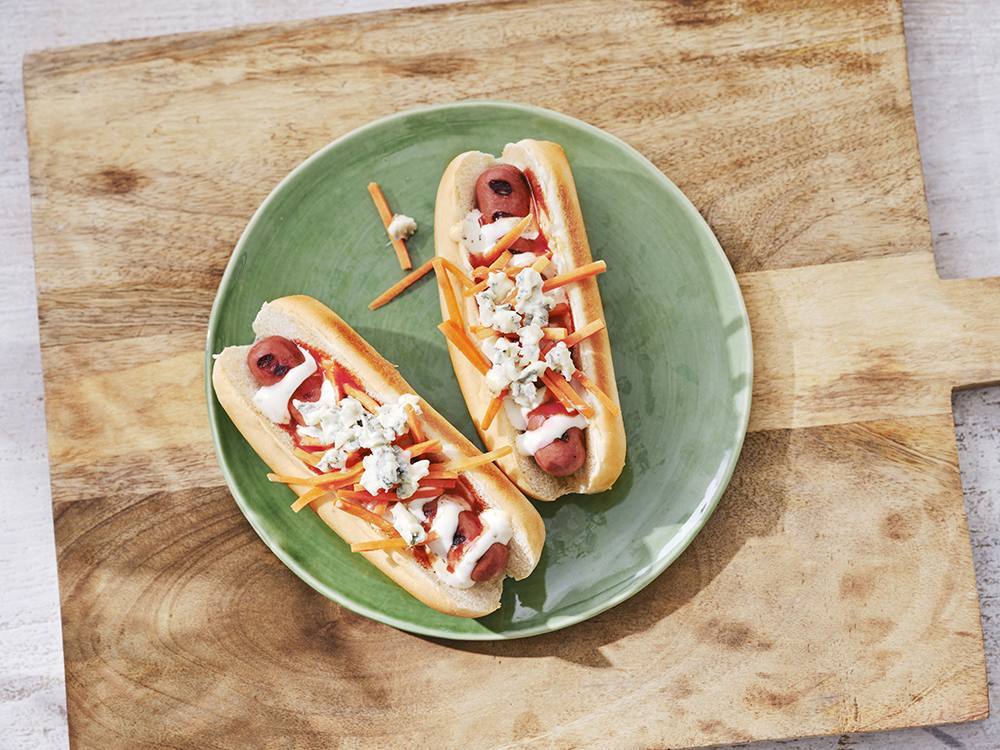 Reuben Hot Dogs
The answer to barbecue burnout? Take some inspiration from the deli. Smoky grilled hot dogs replace traditional corned beef in these Reuben-style franks with sauerkraut, relish, Thousand Island dressing, and Swiss cheese.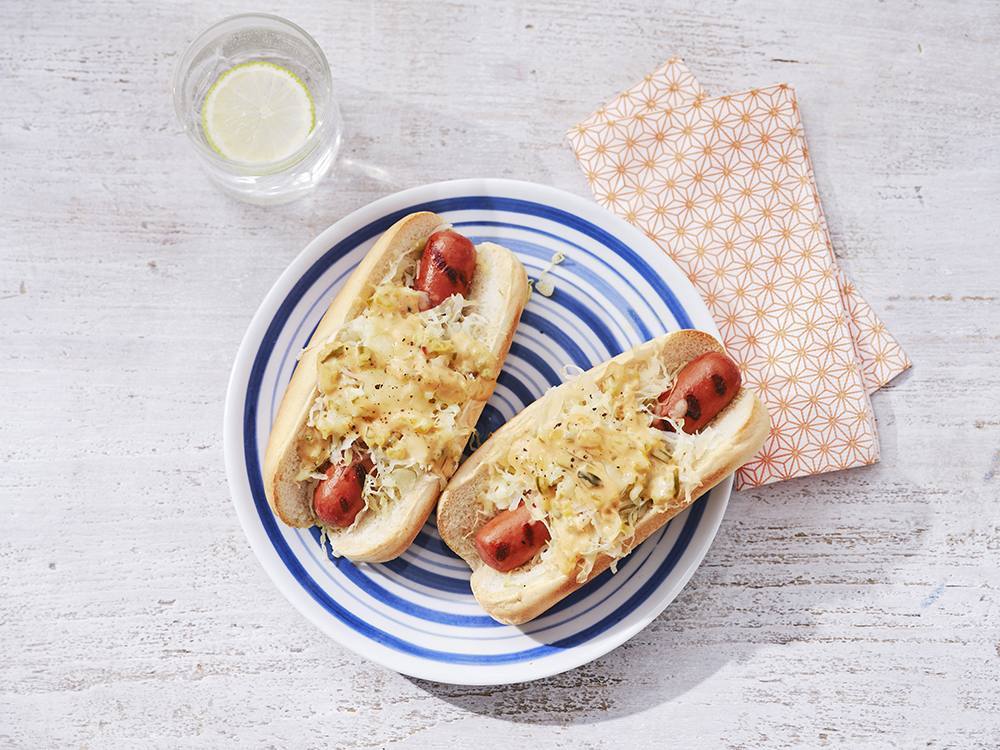 Veggie Italian Pasta Salad
This versatile pasta salad is an easy way to add more veggies to any summer menu. Rotini noodles and crunchy mixed greens tossed with bite-sized tomatoes, goat cheese, and fresh parsley is a fresh, fast take on Italian chopped salad.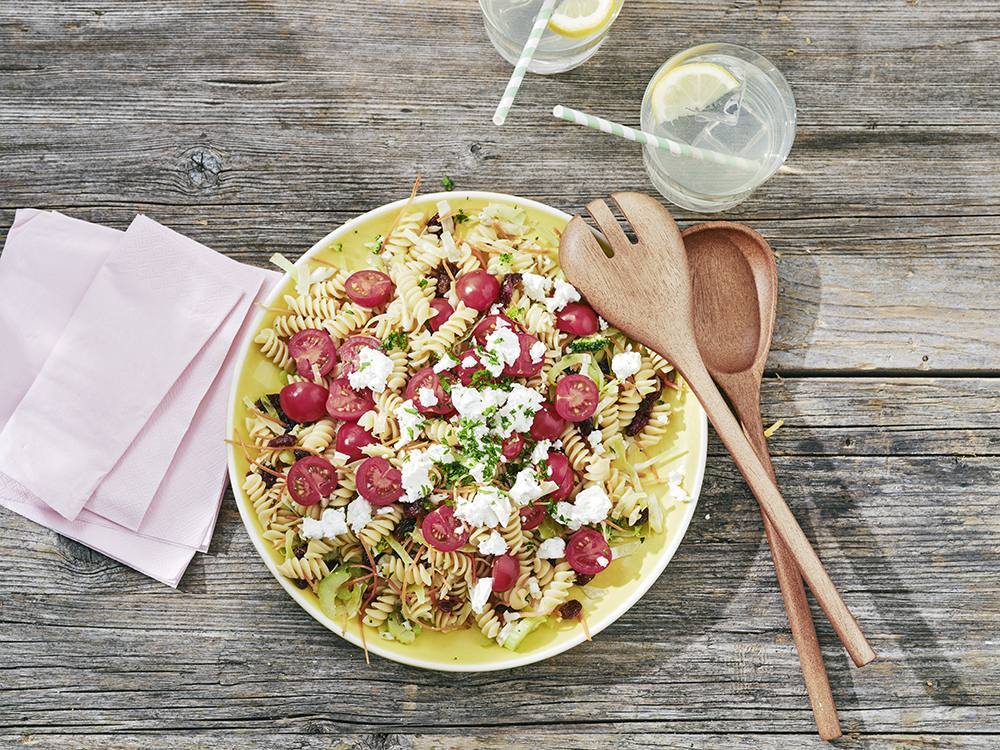 Bacon and Cheddar Loaded Potato Salad
For a super side without any stress, take some help from the store. Pre-made potato salad dressed up with pre-cooked bacon, cheddar, and crunchy veggies makes the perfect 10-minute addition to any cookout spread.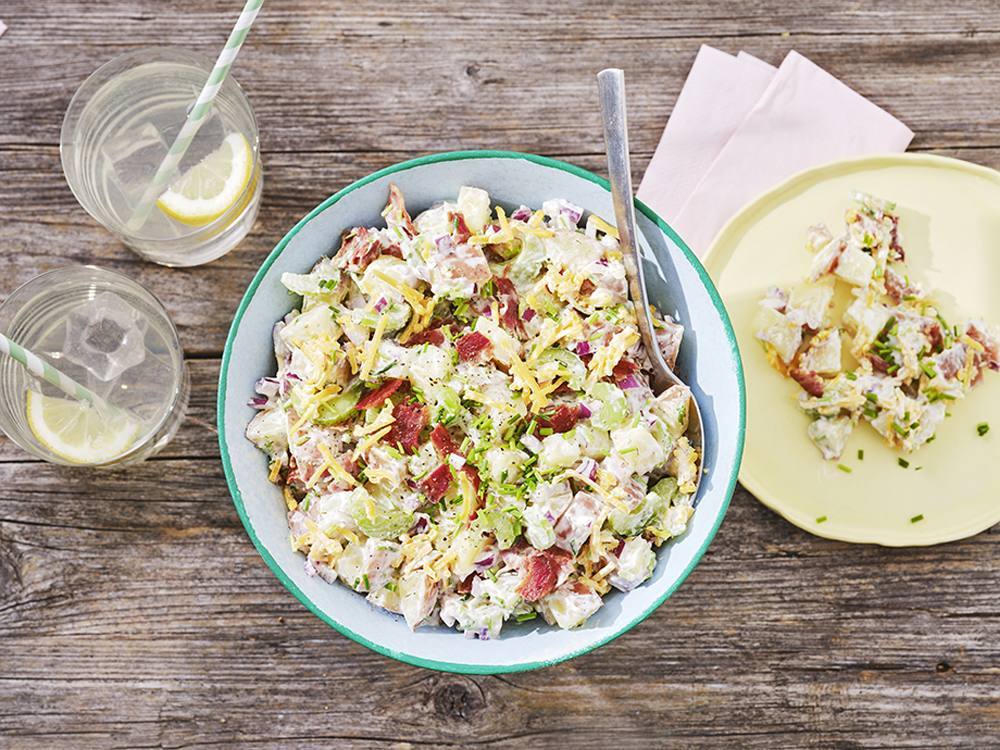 Mexican Corn Macaroni Salad
Five ingredients are all you need for this mashup of macaroni salad and Mexican street corn. Microwaved corn adds sweet flavor and crunch to store-bought macaroni salad amped up chili powder, fresh lime, and crumbled cotija cheese.