You might have seen persimmons in the grocery store and, well, you might have had some questions! What do these taste like? How do I use them? What even are they?! They're not exactly common produce items, so we get it. We can also help explain. Here, we've got everything you need to know about this outstanding, but sometimes overlooked, fall fruit. Let's take a look.
What are persimmons?
Believe it or not, the golden-orange, large-stemmed fruit that resembles a flat tomato is a member of the berry family. (Like tomatoes, persimmons are technically a fruit!) There are many different types of persimmons, but Asian Fuyu persimmons are what you're most likely to find in an American grocery store. Their color varies depending on ripeness, from pale yellow to dark red-orange, as does their shape and size. Most persimmons in the produce aisle will be about three inches across, with a round or slightly acorn-like shape and a vivid orange hue.
What do persimmons taste like?
Fully ripe persimmons are juicy and sweet with a honey-like flavor that's a bit like cantaloupe or apricots without the tang. Their texture is similar to apricots, too.
How to choose persimmons
Persimmons are harvested in autumn with a peak season that starts in October and lasts through early December. When picking the perfect persimmon, look for smooth, shiny, orange skin without any cracks or blemishes. Ready-to-eat persimmons which should be stored in the fridge and used within a few days—have a soft, tomato-like texture that yields to gentle pressure when squeezed. Firmer, unripe persimmons can stay out at room temperature until softened. Pro tip: To ripen persimmons faster, place them in a paper bag with an apple.
How to use persimmons
Mildly sweet, jammy persimmons work pretty much any time you would use stone fruit—sub them in for peaches, plums, or nectarines. They're delicious eaten raw as a healthy snack—one persimmon contains 55 percent of your daily Vitamin A, along with other vitamins, fiber, and antioxidants – or sliced on top of cereal or yogurt. Persimmons also shine in dessert recipes, with a flavor especially well-complemented by warm spices, like cinnamon, cloves, and nutmeg. Try adding persimmons for a new twist in any of your favorite fall baked goods (think: pies, cobblers, cakes, or quick breads).
Soft, sweet persimmons and crispy, tart apples are fall flavor match made in heaven. Together they add a pop of bright, juicy flavor and texture to hearty kale leaves and walnuts in this nutrient-packed salad with maple-Dijon dressing.
Kale Salad with Sliced Persimmons, Apples, and Walnuts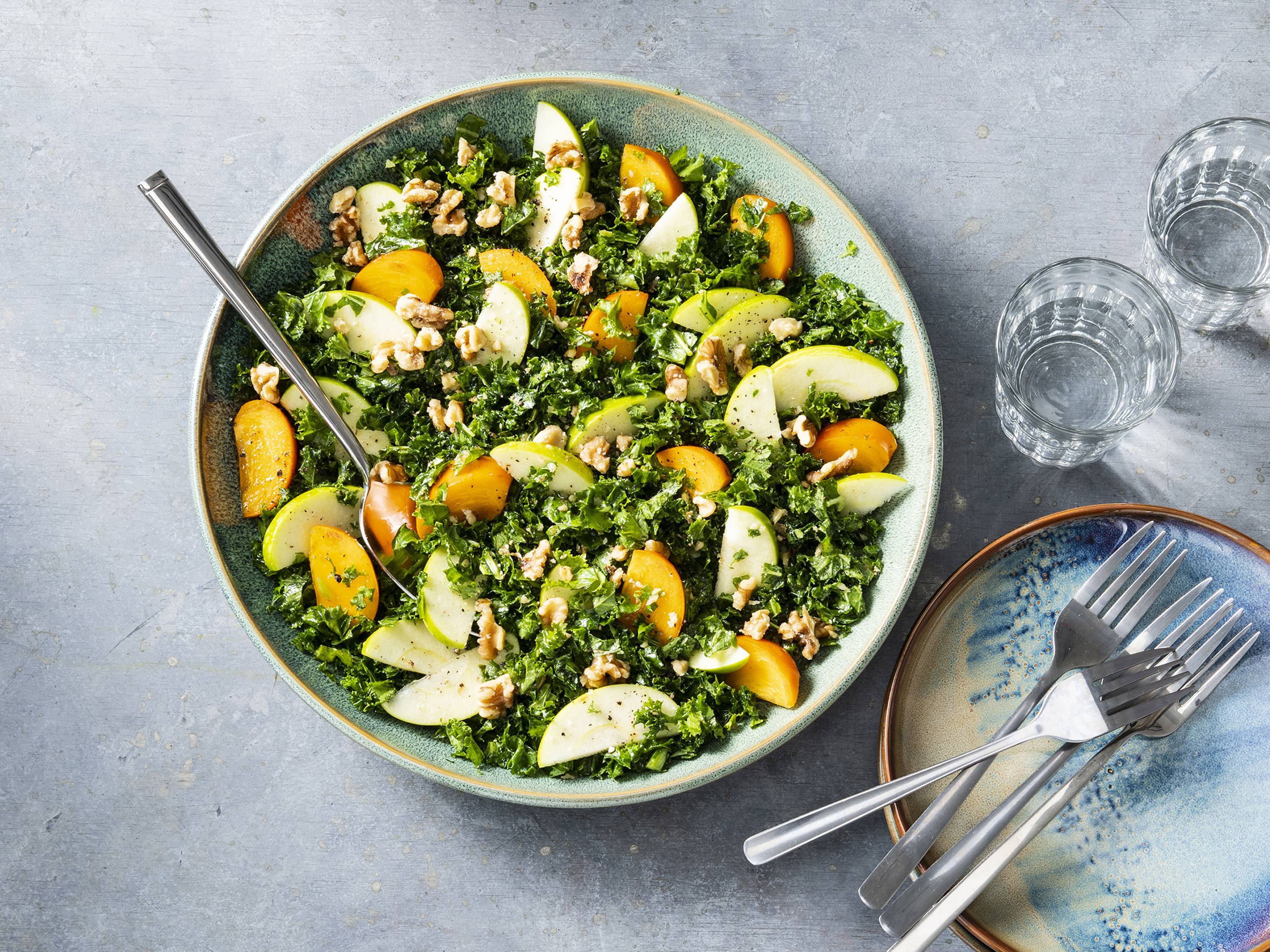 To coax even more sweetness from peak season persimmons, try roasting them. We love the simplicity of this seasonal brunch or dessert recipe that combines warm fruit from the oven with fresh ginger, maple, and vanilla-spiked Greek yogurt.
Maple Spiced Roasted Persimmons