One-pot meals are more than just a clever name. They're weeknight heroes! They're the key for getting dinner on the table quickly, without a lot of cleanup. Of course, you'll need a pot. (Or a pan! Or a supersmart small appliance!) Which brings us to this list. We've rounded up six kitchen tools that could help you cook all sorts of one-pot meals. Do a little bit of shopping now and you'll be set for the rest of the season—and beyond!
Dutch Oven
When it comes to versatility in the kitchen, it's hard to beat an enameled cast iron Dutch oven. In it, you can sear, sauté, simmer, bake, roast, and more. Look for one that has a 5- or 6-quart capacity, a tight-fitting lid, and an enamel coating (so you don't have to worry about seasoning the cast iron). Keep your Dutch oven clean by hand washing with soap and water, using a non-abrasive sponge on the interior to avoid scratching the coating. If you're dealing with stuck-on bits, soak the bottom overnight.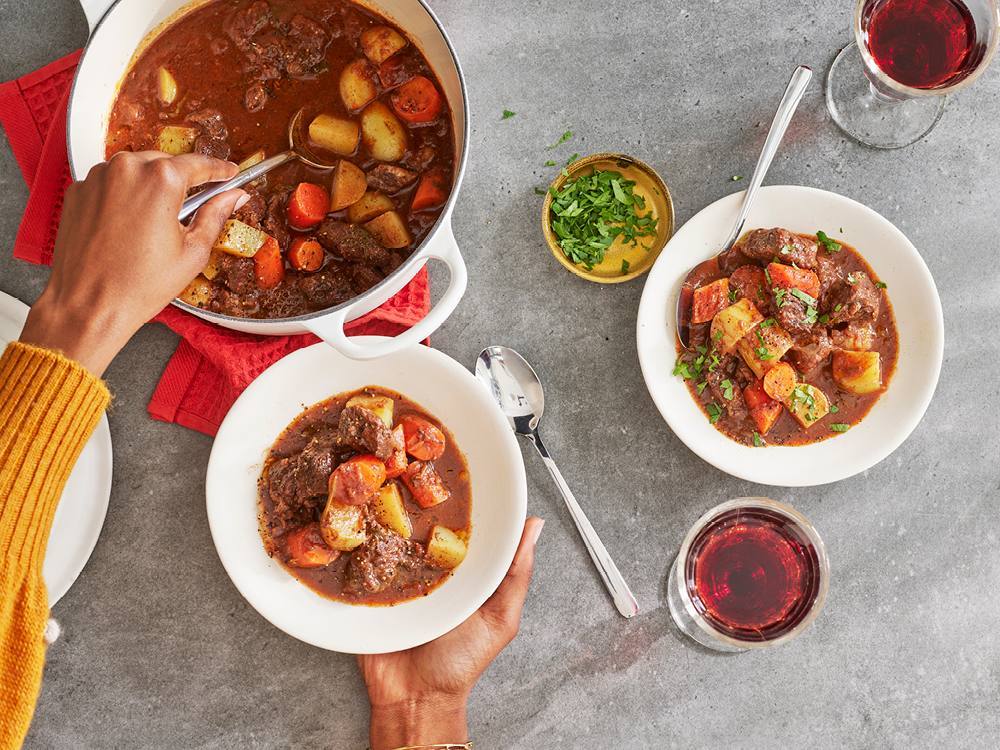 Skillet
You have some options here! You can get a stainless steel skillet, a nonstick one, or a cast iron skillet—or all three! They each bring something unique to the table. Stainless steel is super durable and responds the quickest to temperature adjustments, which gives you more control. Nonstick is great for delicate foods, like fish, eggs, or anything with breading. And cast iron offers unmatched heat retention and is the perfect choice for searing and pan frying. When shopping, pick a skillet that's 10 or 12 inches wide, and no matter what the manufacturer says, know that you're always better off handwashing the pan.
Sheet Pan
This simple piece of equipment is a must-have for roasting and baking. Look for sturdy rimmed sheet pans made of aluminum (which heats and cools quickly), with raised edges to help keep tasty juices and other liquids from spilling. To get the most use from your sheet pan, look for the largest size that will fit in your oven (usually that's a half-sheet pan, which measures around 13-by-18 inches) A bigger pan means less crowding—and better browning and more even cooking. For faster cleanup and to keep food from sticking, line sheet pans with parchment paper or a silicone baking mat before adding ingredients. Because the dishwasher can cause discoloration, it's best to wash aluminum baking sheets by hand with soap and water.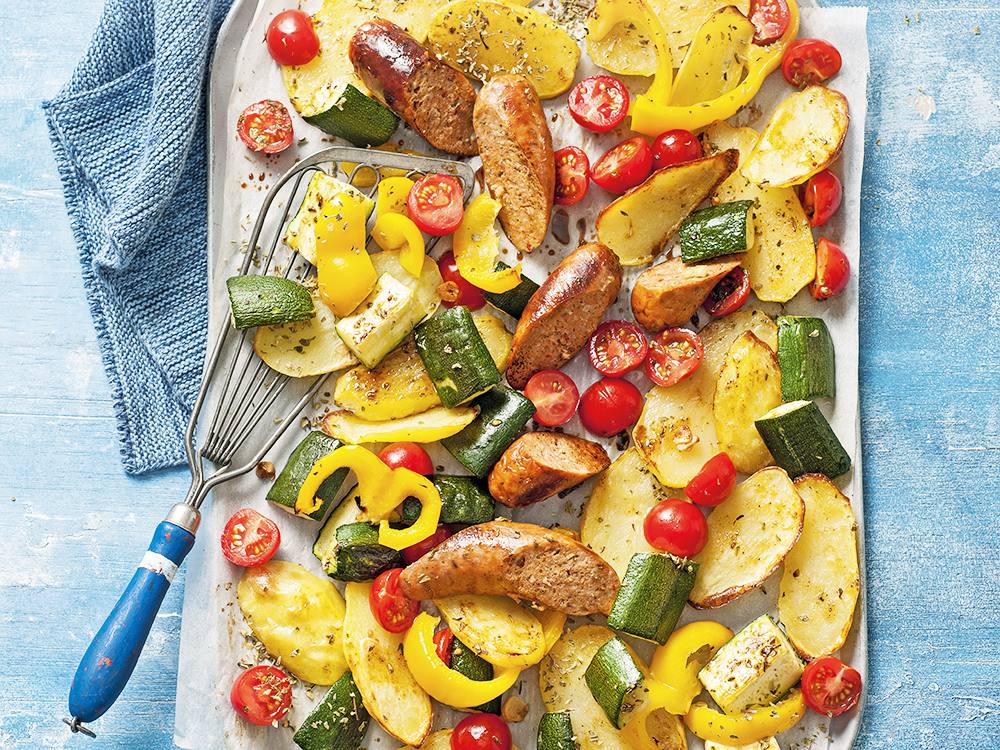 Baking Dish
You may know it as a casserole dish, but we call it a baking dish so that we don't limit it. The depth of a traditional baking dish makes it ideal for layering. (Maybe it should also be called a lasagna dish?!) If you're only going to buy one baking dish, make it a 9-by-13-inch one (the standard in most one-pot recipes) and pick one that's made from either glass or ceramic with roomy handles. Most glass and ceramic baking dishes can go in the dishwasher. To clean especially tough, stuck-on bits, add dish soap and a small amount of baking soda. Soak the pan in hot water for 15 minutes and scrub thoroughly.
Slow Cooker
Want to feed a crowd with little to no effort on your part? You'll want a slow cooker, which does most of the work for you. Choose a 5- or 6-quart machine with high, low, and warming functions and a snug fitting lid (latches are also helpful if you plan to transport food in your slow cooker). Look for models with a removable ceramic insert, which retains heat for even cooking and makes cleanup a snap. Most ceramic inserts are dishwasher safe, and they're also easy to clean by hand with soap and water. Clean the outside with a damp towel, just be sure the cooker is unplugged and cool.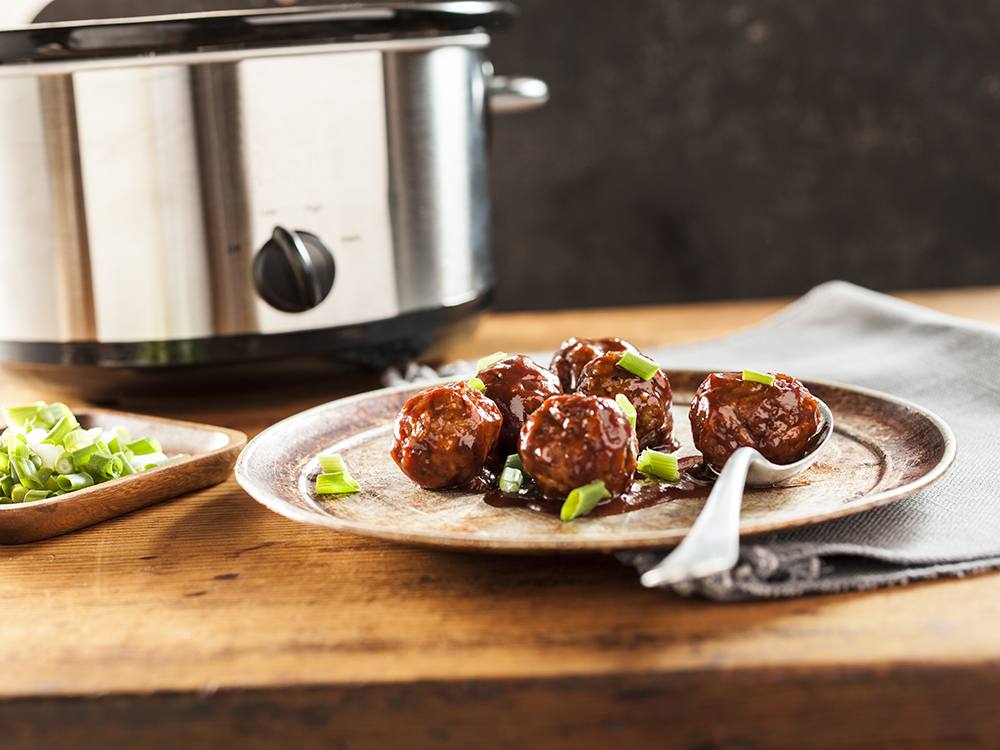 Multi-Cooker (such as an Instant Pot®)
As its name implies, a multi-cooker can do a variety of functions. The complete list will vary from model to model, but most can be used as a slow cooker, pressure cooker, rice cooker, steamer, warming pot, and more. For one-pot meals in a hurry, use it as a pressure cooker to speed up traditionally slow-cooking foods, like tough cuts of meat and dried beans. Look for one with a 6-quart capacity (the standard in most multi-cooker recipes) that includes a minute timer, a secure sealing lock, and removable parts for easy cleaning. To clean your multi-cooker, be sure it's unplugged and completely cool. The removable stainless steel cooking insert can go in the dishwasher, or get cleaned by hand with soap and water. Wipe down any splatters on the exterior with a damp cloth.