A well-stocked freezer is like having an assistant in the kitchen, and it can add up to big savings, too. Time-saving options like chopped veggies and premade proteins help to cut down on prep work while offering the nutrition and value of a homemade meal. Stock up on family favorites (including the frozen items below) when they're on sale for an always-ready arsenal of easy meals that are easy on your wallet.
Get ready to put your dinner woes on ice; this 9-ingredient, 5-meal strategy promises more (smiles at the dinner table) for less (time and effort at the store and the stovetop).
Ingredients:
2 (10 oz) bags Asian-Style Frozen Vegetables & Quinoa 
3 (24 oz) bags frozen turkey meatballs 
1 (16 oz) bag Nature's Promise® Organic Cut Leaf Frozen Spinach
3 (32 oz) bags frozen tater bites
2 (1 lb) pkgs 85% lean ground beef
2 (16 oz) jars Taste of Inspirations® Mango-Pineapple Salsa 
3 heads butter lettuce
1 (8 oz) block reduced-fat Colby Jack cheese 
2 (10.5 oz) cans Vegetable Condensed Soup with Beef Stock
Recipes:
Cheesy Meatball and Tater Bite Skewers
It's everything you love about a turkey burger with fries served up on a stick! Protein-packed turkey meatballs are a delicious shortcut for all kinds of Italian-inspired meals, like spaghetti, subs, and meaty pizza. Here, they're building blocks for hearty, oven-roasted skewers with fluffy tater bites and a topping of melty cheese.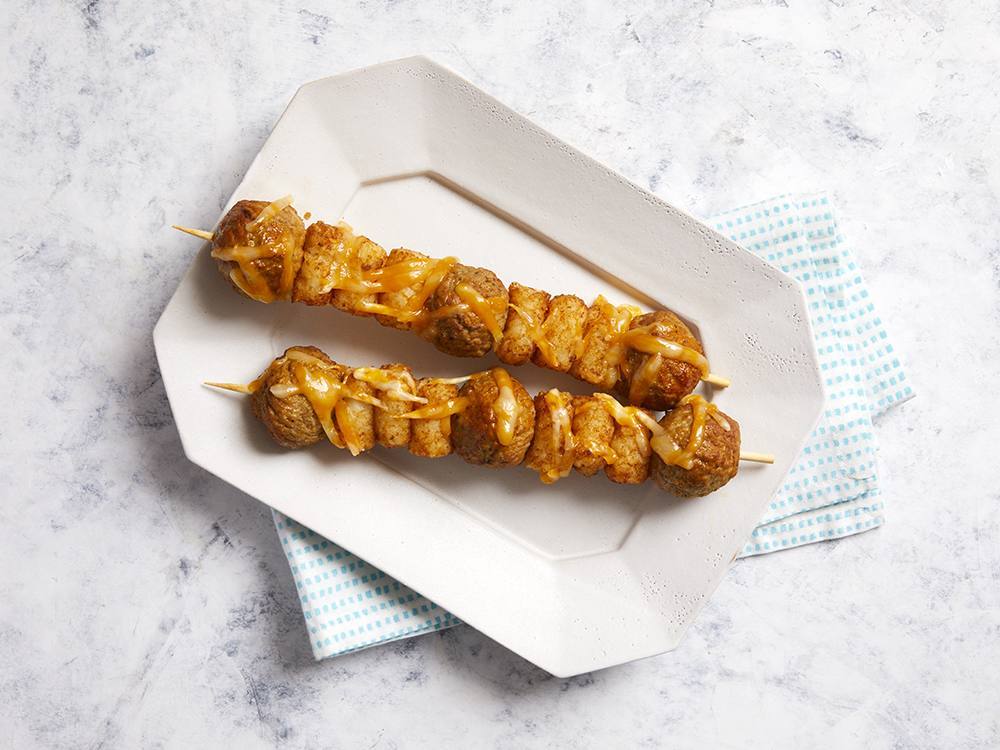 Beef and Quinoa Shepherd's Pie
Classic shepherd's pie moves into the fast lane with an extra dose of vitamins and fiber in this crispy, veggie-studded version. Golden baked tater bites replace traditional mashed potatoes on top of a savory filling with ground beef, mixed vegetables, and quinoa that cooks in just 15 minutes.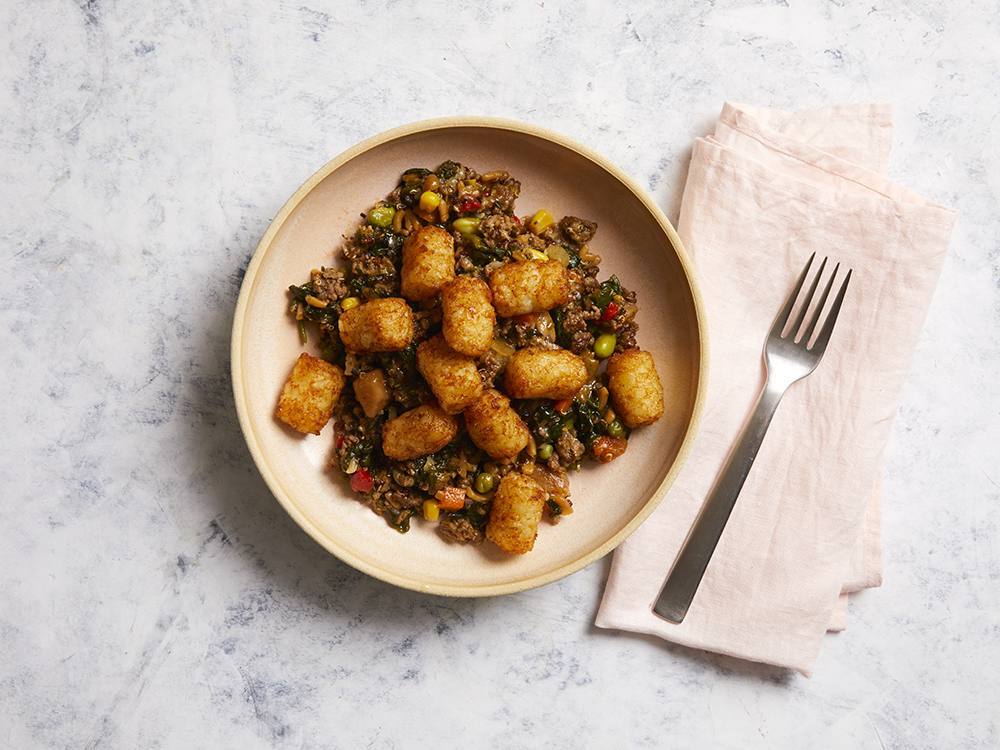 Lettuce Cups with Turkey and Quinoa
This handheld meal-in-one is light on carbs and fully loaded with color and satisfying crunch. A quick filling of turkey meatballs, veggie-quinoa blend, and sweet-savory mango salsa delivers a taste of the tropics wrapped inside leaves of tender butter lettuce.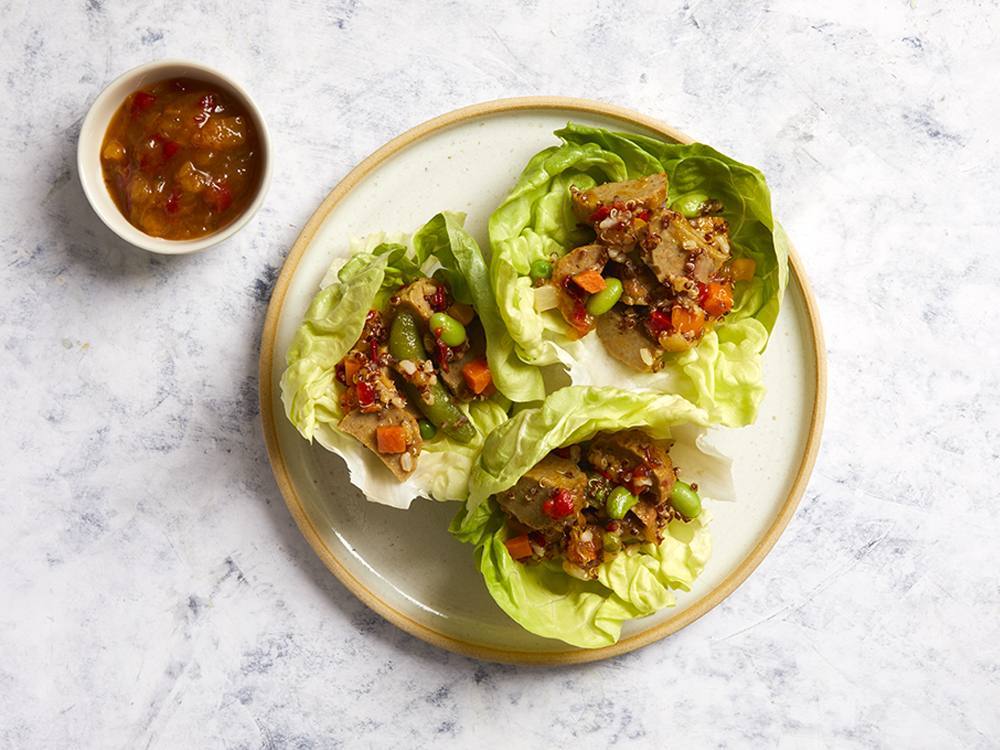 Tater Bite Nachos
What happens when two all-star bar snacks combine into one stick-to-your-ribs family dinner? Everybody becomes a member of the "clean plate club." Golden, crispy tater bites replace tortilla chips in these irresistible "tot-chos" dressed up with ground beef, mango-pineapple salsa, a fresh finish of chopped lettuce, and, of course, lots of melty cheese.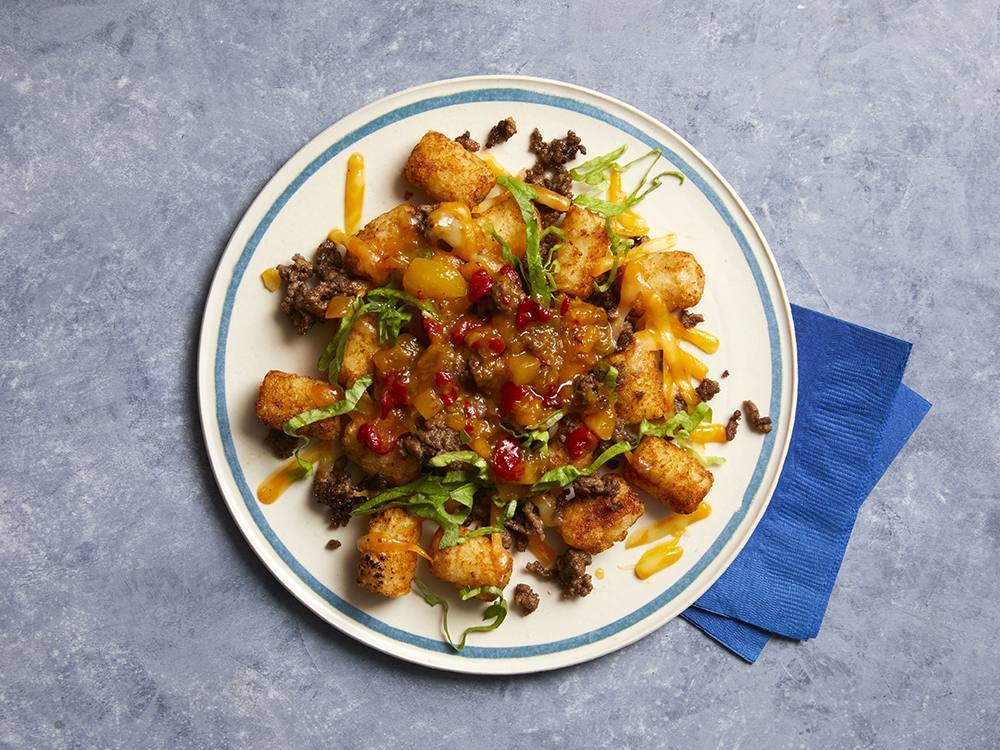 Vegetable Soup with Meatballs
This three-ingredient bowl of comfort is perfect for nursing a cold or just staying cozy on chilly nights. Turkey meatballs and frozen spinach add a punch of satisfying nutrients to canned vegetable soup for a complete meal that hits the table (or the sofa) in 20 minutes.