It's a day all about good food and good company but, let's be honest, hosting Thanksgiving can be stressful. If the idea of cooking an impressive meal for a big group on a specific timeline feels daunting, you're not alone. Luckily, the path to an epic holiday feast is full of shortcuts if you know where to look. We're sharing our top tips, hacks, and recipes to save time and effort in the kitchen so you can enjoy Thanksgiving as much as your guests.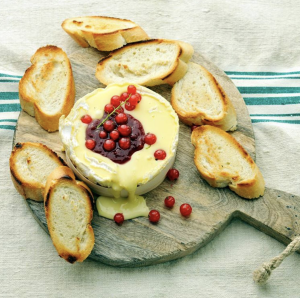 Tip 1: Serve one or two memorable appetizers rather than a whole spread.
On a day all about eating, it can be tempting to go overboard with snacks before the meal has begun. Keep guests hungry for the main event by serving one or two standout appetizers worthy of a special occasion. Upgrade ordinary cheese and crackers (and spare the expense of buying multiple types of cheese) with this creamy baked camembert.  Fresh currants and a dollop of currant jelly add holiday-worthy flare that's ready with just five minutes of prep.
Get the recipe: Baked Camembert with Red Currants
Tip 2: Make big batch beverages and let guests help themselves 
When you're covering both hosting and cooking duties, a little help goes a long way. A DIY drink station where guests can refresh their own glasses takes one thing off your plate (no pun intended!). Big batch cocktails and mocktails are an ideal way to serve something special without the need to play bartender. This festive punch with whiskey and apple cider can be mixed before guests arrive and put out as a centerpiece with a decorative floating ice ring that's easy to make using a Bundt pan. 
Get the recipe: Apple Cider Punch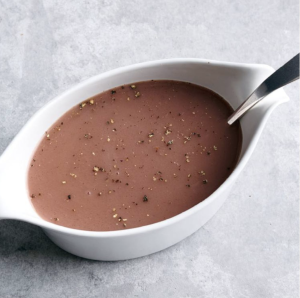 Tip 3: Prep ahead as much as possible 
One way to significantly cut down on Thanksgiving stress is to knock out as much of the meal as possible in advance. Chopping veggies, making pie dough, and assembling stuffing and casseroles ahead are all smart ways to streamline efforts on the big day. This version of savory gravy with red wine can be made up to three days in advance, then finished with drippings from the turkey just before reheating and serving.
Get the recipe: Make-Ahead Red Wine Gravy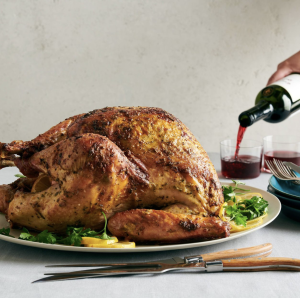 Tip 4: For perfectly cooked turkey, go by the numbers. 
We've all had dry, overcooked turkey…or even worse, soggy, pink, undercooked meat. There's one simple tool that can banish bad turkey forever, eliminating the guesswork and stress that comes with it. A digital thermometer is the best way to ensure that your Thanksgiving turkey (and any other meat you cook) will be moist, tender, and thoroughly cooked. Take the temperature from the thickest part of the thigh; when it reads 165 the bird is ready to come out of the oven. Even if you're a newbie in the kitchen, an electric thermometer and this foolproof recipe with carrots, onions, and fresh herbs will set you up for main course success.
Get the recipe: Easy Five-Ingredient Turkey

Tip 5: Serve tradition with a twist 
Sticking with holiday tradition doesn't have to be boring. Serve guests the dishes they've waited for all year, but don't be afraid to add personal touches. Something as simple as adding apple cider to your turkey glaze or fall fruit to your stuffing can turn a classic into something uniquely your own. For a new take on old school green bean casserole, try this upgraded version that's ready to serve in 20 minutes without using the oven.
Get the recipe: Green Beans with Gruyère Béchamel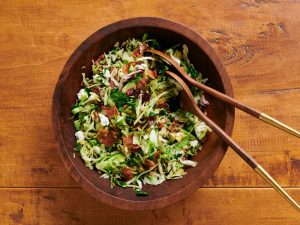 Tip 6: Use pre-prepped vegetables and salad kits to skip extra chopping and slicing 
Just because Thanksgiving is a special occasion doesn't mean you can't rely on storebought shortcuts for help. Pre-chopped veggies and bagged salad kits are smart ways to bypass time-consuming prep. Add your own flavorful touches, like the bacon and goat cheese in this warm kale salad, to elevate everyday convenience ingredients to holiday-worthy.
Get the recipe: Warm Kale Salad with Cranberries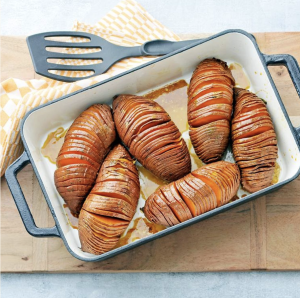 Tip 7: Presentation counts 
It's true what they say, we eat with our eyes first, especially when seated at a big holiday meal. Beautiful presentation is the mark of an experienced cook – even if it's your first time – and sets the tone for a celebration. Hasselbacking is a simple technique that transforms roasted sweet potatoes (or russet potatoes) into a showstopper. The nooks and crannies are perfect for catching every last drop of melted butter spiked with brown sugar and bourbon.
Get the recipe: Hasselback Sweet Potatoes with Bourbon Maple Butter

Tip 8: Make boxed stuffing your own 
Stuffing from a box is always a weeknight winner, but it can also be a secret weapon on Thanksgiving. The basic building blocks for turkey's favorite sidekick are already included – dried bread pieces and flavoring – where it goes next is up to you. One never-fail addition is butter. Browning it in a pan coaxes out nutty flavor, which is the inspiration for this mostly homemade version with chopped pecans and chestnuts that's so irresistible no one will believe it started with a box.
Get the recipe: Brown Butter Stuffing

Tip 9: Choose sides that don't require the oven or stovetop 
Cooktop and oven space are valuable real estate on Thanksgiving. No-cook and microwave-ready sides can streamline prep and help get the entire meal on the table at the same time. Microwave-ready veggies, like green beans, Brussels sprouts, and butternut squash, are all quick-cooking options that can be dressed up countless ways. Make salads shine with holiday-worthy upgrades like cheese, fruit, or candied nuts. Serving a cranberry chutney rather than cranberry sauce lets you bypass cooking while still rounding out your meal with that distinctive tang. Our version with oranges and tart Granny Smith apples comes together in the food processor in 10 minutes.
Get the recipe: Cranberry-Orange Chutney

Tip 10: For potato dishes in a flash, think inside the can.
We're all about homemade when it comes to the holidays, so it might surprise you to learn that one of the tastiest ways to serve potatoes starts by cracking open a can. Creamy scalloped potatoes are a crowd-pleaser, but slicing the spuds into perfectly uniform rounds can be tricky and time-consuming. Sliced white potatoes in a can fast-track this starchy side with two kinds of cheese that will have everyone asking for seconds.
Get the recipe: Easy Scalloped Potatoes

Tip 11: Let the bakery section help with dessert 
Making pie from scratch requires patience and skill, and it can be a tall order for someone without baking experience. For all the oohs and aahs of a homemade dessert with a fraction of the work, take some help from the bakery section. A sweet-savory topping of caramel and sesame seeds transforms store-bought pumpkin pie into a one-of-a-kind showstopper. Bonus: it's one less menu item taking up valuable space in the oven.
Get the recipe: Pumpkin Pie with Sesame-Caramel Topping

Tip 12: Rethink leftovers
Everyone knows Thanksgiving eats don't stop on the big day, but reheating a plate of the same old leftovers can be underwhelming. Fluffy Hawaiian rolls, Swiss cheese, and a buttery poppyseed glaze transform the remains of last night's meal into irresistible sliders served warm from the oven. Whip up a batch that serves six in just 15 minutes and invite friends and family who had other holiday plans to come over and enjoy a tasty round two celebration.
Get the recipe: Thanksgiving sliders