Lean, satisfying, protein-packed seafood is an often-overlooked star when it comes to easy meal planning. Pulling off a flavorful fish-based dinner might seem too fussy or complicated for a weeknight, but with a handful of supporting ingredients, these quick-cooking, simply prepared recipes are a breeze. We're spotlighting eight distinctive flavor pairings, including familiar favorites and some you might not have tried before, that are guaranteed to make seafood shine. Check out these tasty combos and dive into delicious recipes from under the sea that hit the table in under an hour.
Seafood: Shrimp
Ingredient: Cajun seasoning
Shrimp and Cauliflower "Grits"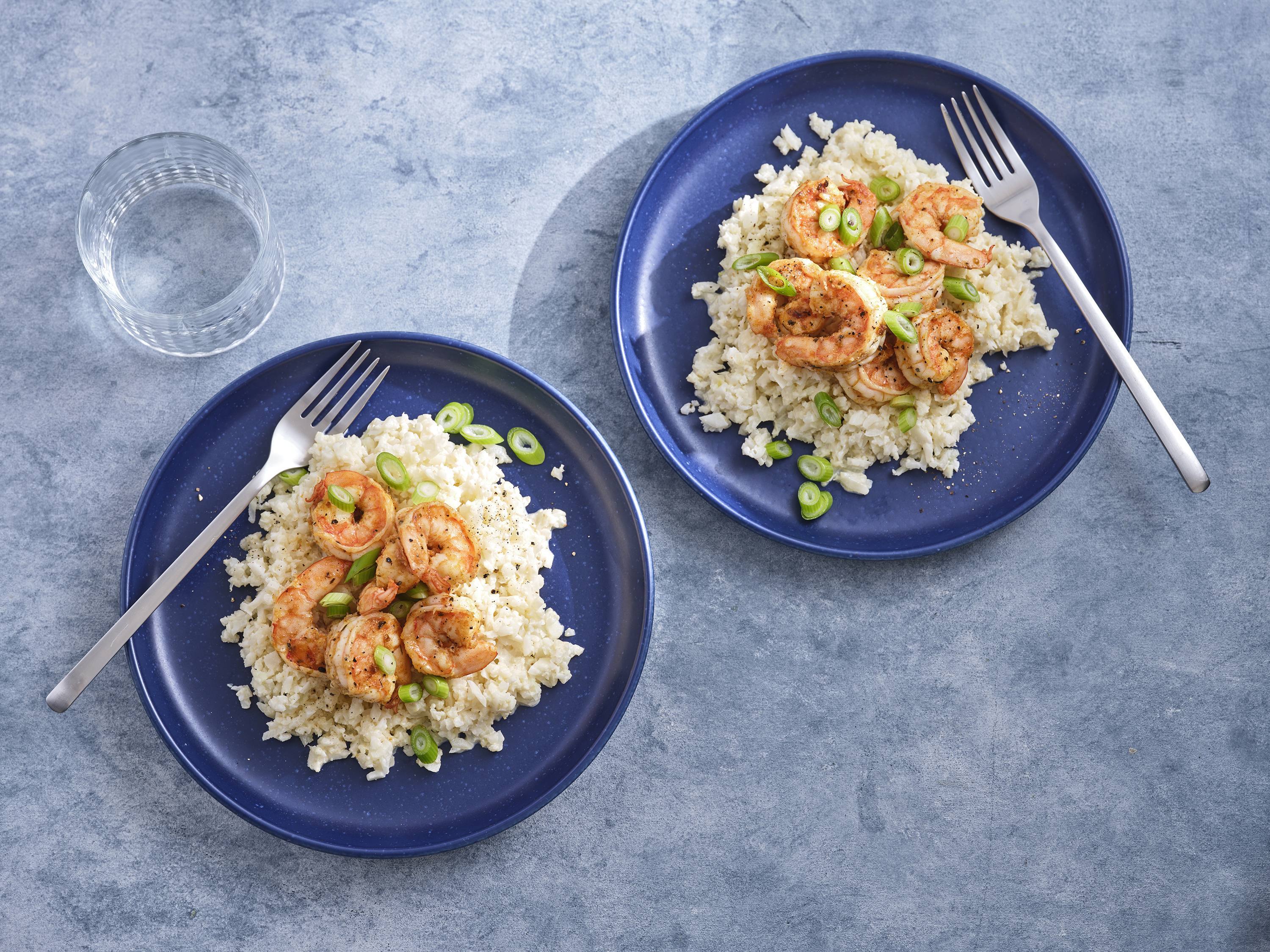 The array of spices in Cajun seasoning – black, white, and cayenne pepper, paprika, garlic, and onion – plays well with the mild sweetness of shrimp. Perhaps that's the reason shrimp and grits has earned its place in the Southern cooking hall of fame. Our five-ingredient version swaps in cauliflower rice for a low carb meal that doesn't skimp on bold, bayou-inspired flavor.
Seafood: Mussels
Ingredient: Coconut milk
Spicy Thai-style Mussels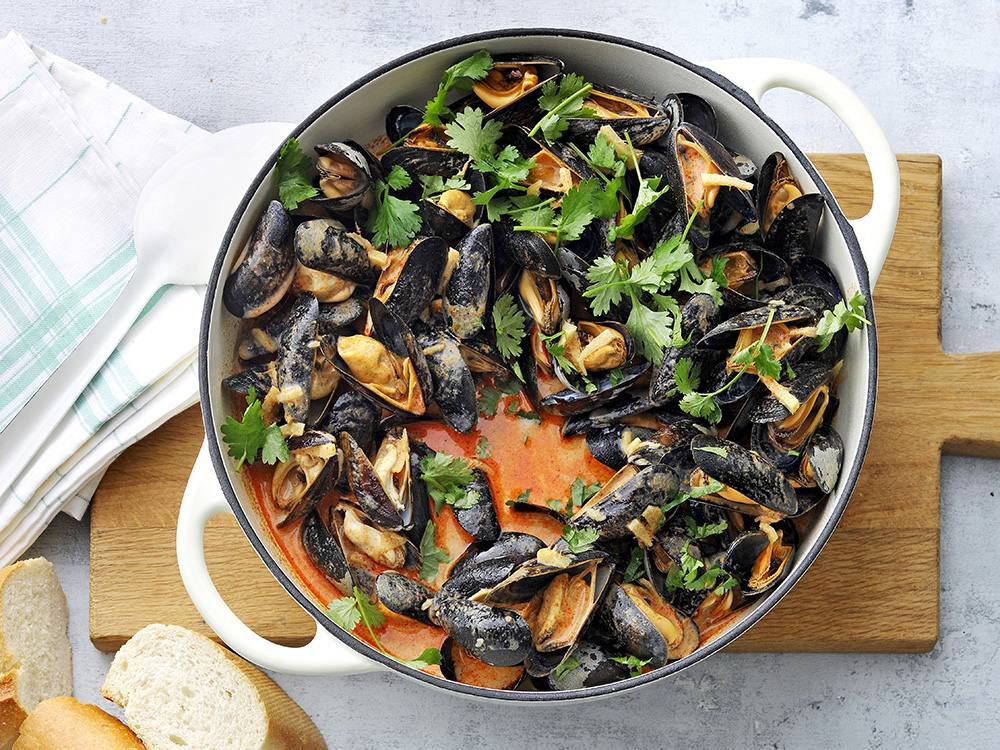 Sweet, creamy coconut milk is a staple of Southeast Asian cuisine that works in a variety of both savory dishes and desserts. Paired with fresh, briny mussels, it creates well-balanced, sweet-savory flavor with velvety rich consistency. Quick cooking mussels are a smart, budget-friendly choice for busy weeknights, like this taste of Thailand with coconut milk, red curry paste, and ginger that's ready in just 20 minutes.
Seafood: Scallops
Ingredient: Potatoes
Seared Scallops with Lemony Potatoes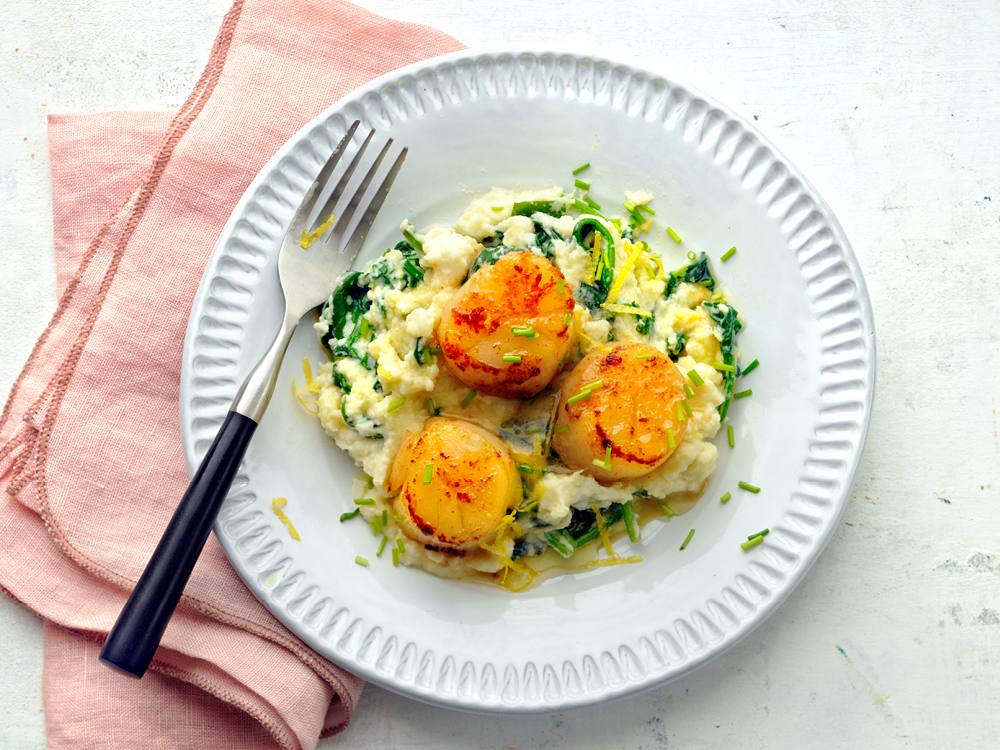 Succulent scallops take on a buttery flavor when cooked, so they're a match made in heaven with virtually any form of carbohydrate. Rice, pasta, and bread are all tasty options for rounding out a meal starring scallops, but our go-to is potatoes. Whether fried, baked, or boiled; a starchy russet (i.e. baking potato) or a waxy variety, like baby red, mildly earthy potatoes are scallops' perfect sidekick. Store-bought mashed potatoes are the time-saving secret in this company-worthy recipe that combines seared scallops with fresh lemon and microwave-ready spinach.
Seafood: Clams
Ingredient: Cream
New England Clam Chowder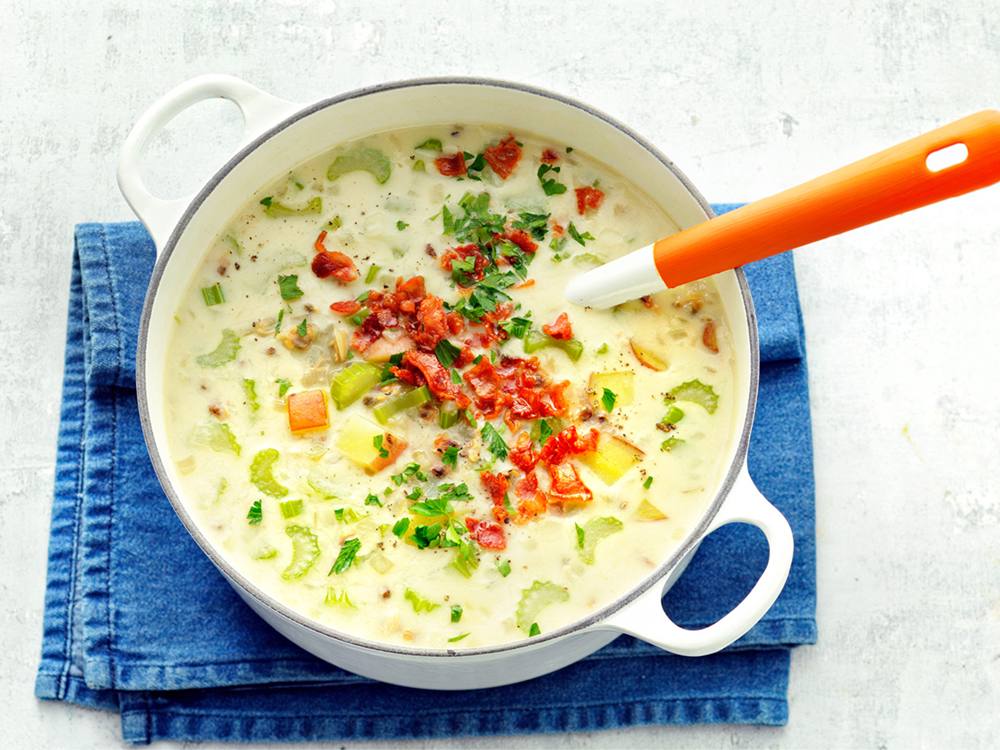 The best fresh clams taste like the ocean with the satisfying chew of lean protein. The fat content of heavy cream is an ideal match in both taste and texture, adding mild, complementary sweetness and luscious mouthfeel. No dish spotlights this happy marriage better than classic New England clam chowder. Our traditional recipe delivers big seafood flavor with both chopped clams and clam juice in a creamy broth with potatoes and bacon.
Seafood: Salmon
Ingredients: Fresh herbs and citrus
Slow Roasted Salmon with Citrus and Herbs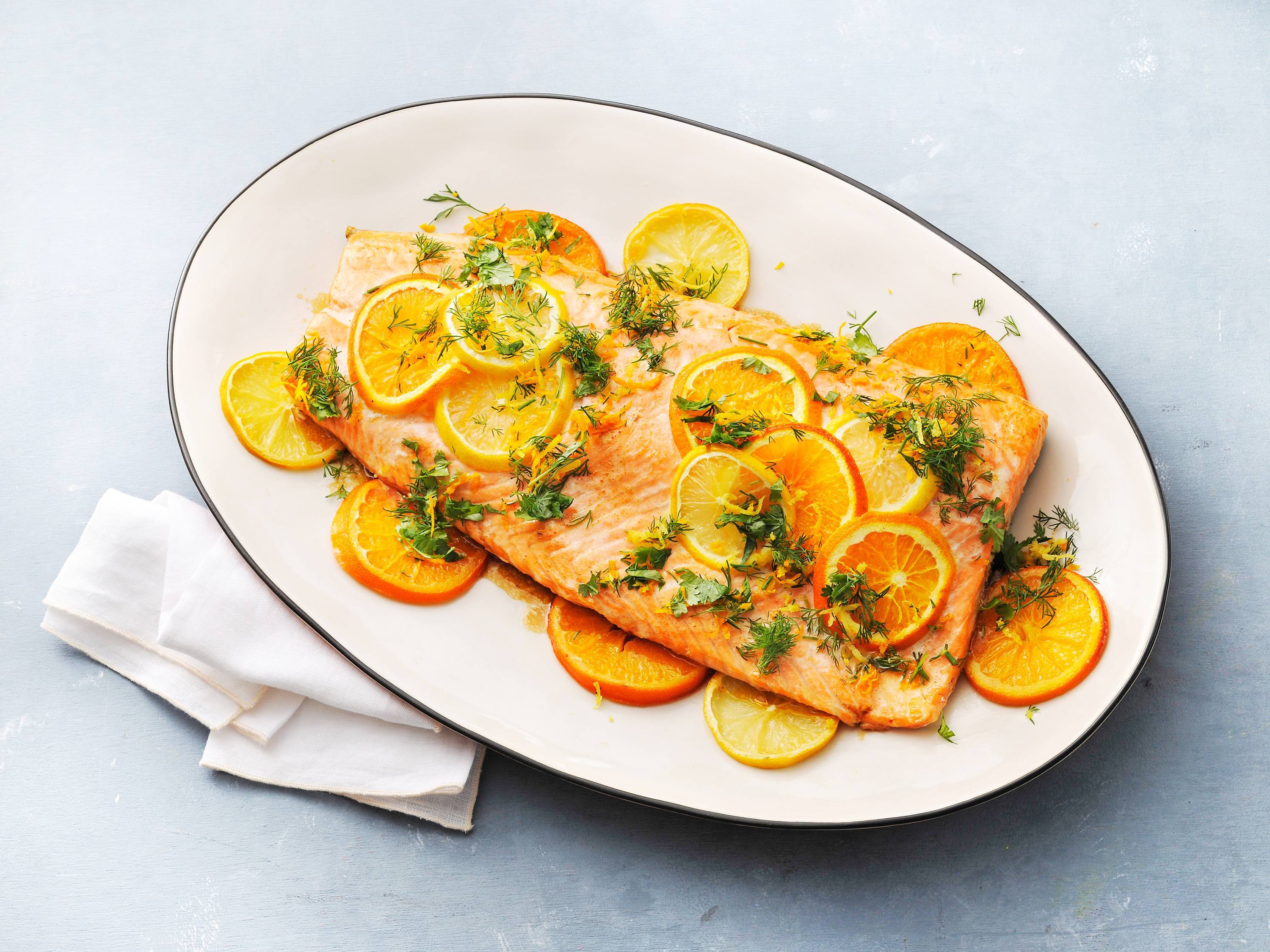 Salmon plays well with a variety of ingredients, but nothing enhances its naturally mild flavor like fresh herbs and the acidity of citrus or vinegar. Both help to counterbalance the fish's abundant healthy fat content for well-balanced taste that's hearty and satisfying while still being lean. For an impressive but easy fish dinner that serves eight, keep this recipe in your back pocket. Two kinds of citrus, fresh parsley, and dill dress up slow roasted salmon that looks as good as it tastes.
Seafood: White fish
Ingredient: Slaw
Air Fryer Fish Taco Bowls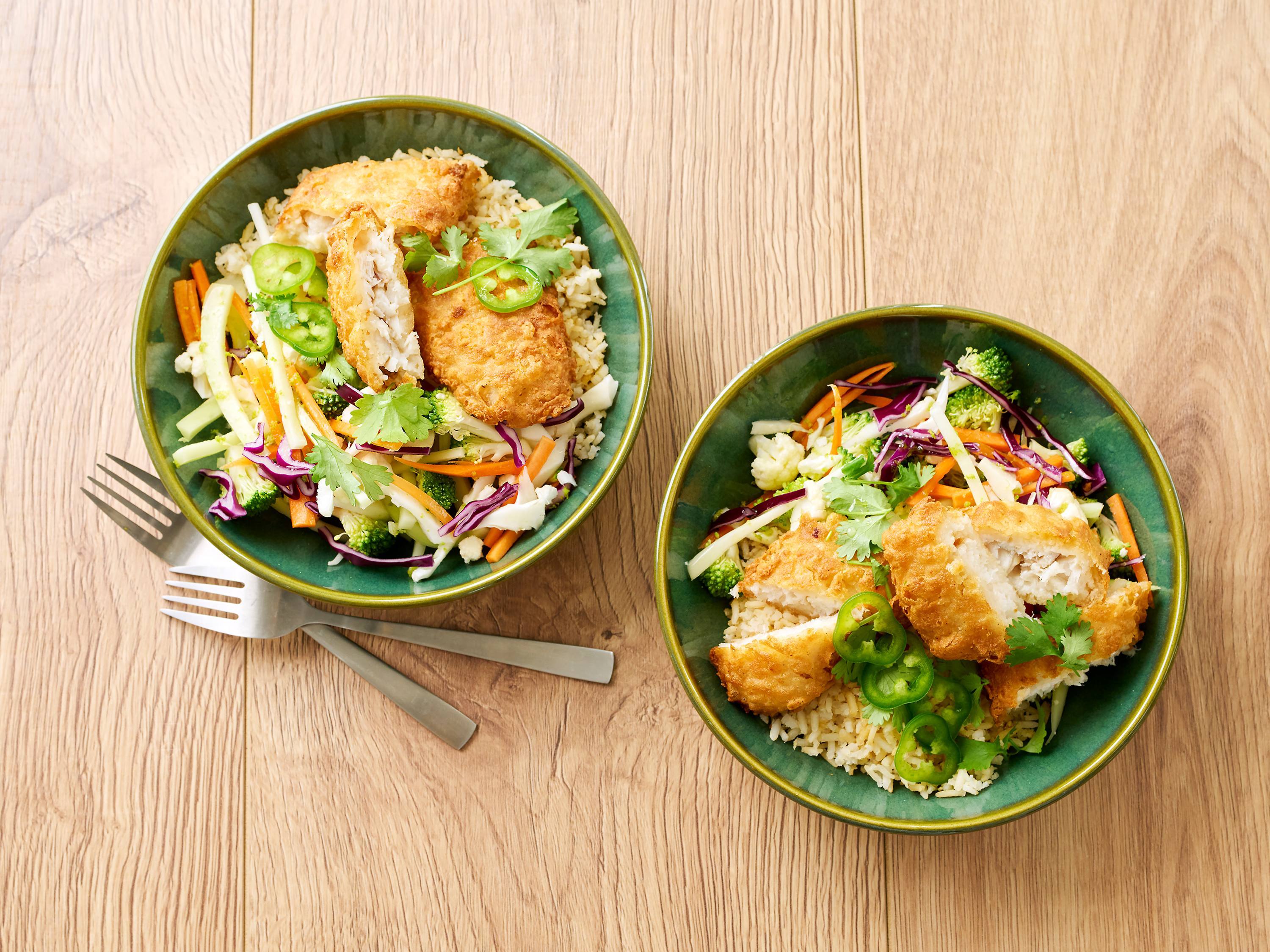 Flaky white fish, such as cod, haddock, and tilapia, is a blank canvass for showcasing any of your favorite tastes and textures. Mild mannered white fish does well with a boost of flavor and crunch, so tangy slaw is a natural complement. We love the punch of rainbow slaw with jalapenos and fresh cilantro in these trendy fish taco bowls with air-fried battered fish fillets over fiber-rich brown rice.
Seafood: Crab
Ingredient: Old Bay
Soft Scrambled Eggs with Crab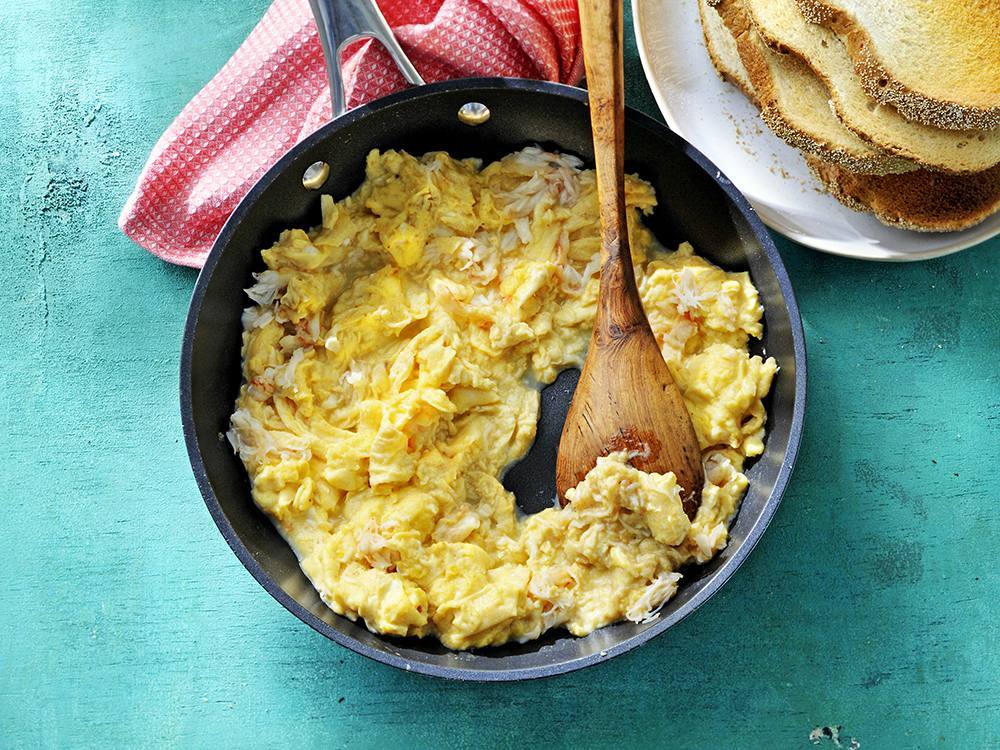 No trip to the Maryland shore is complete without a big plate of crabs and plenty of Old Bay® seasoning. The distinctive blend of celery salt, black and red pepper, and paprika works with all kinds of shellfish, but on sweet, delicate crab, it's an all-time winning combination. For an easy upgrade on eggs worthy of a special occasion, simply stir cooked crab claw meat into a soft scramble spiked with Old Bay®.
Seafood: Lobster
Ingredient: Chives and green onions
Lobster Rolls with Grilled Green Onions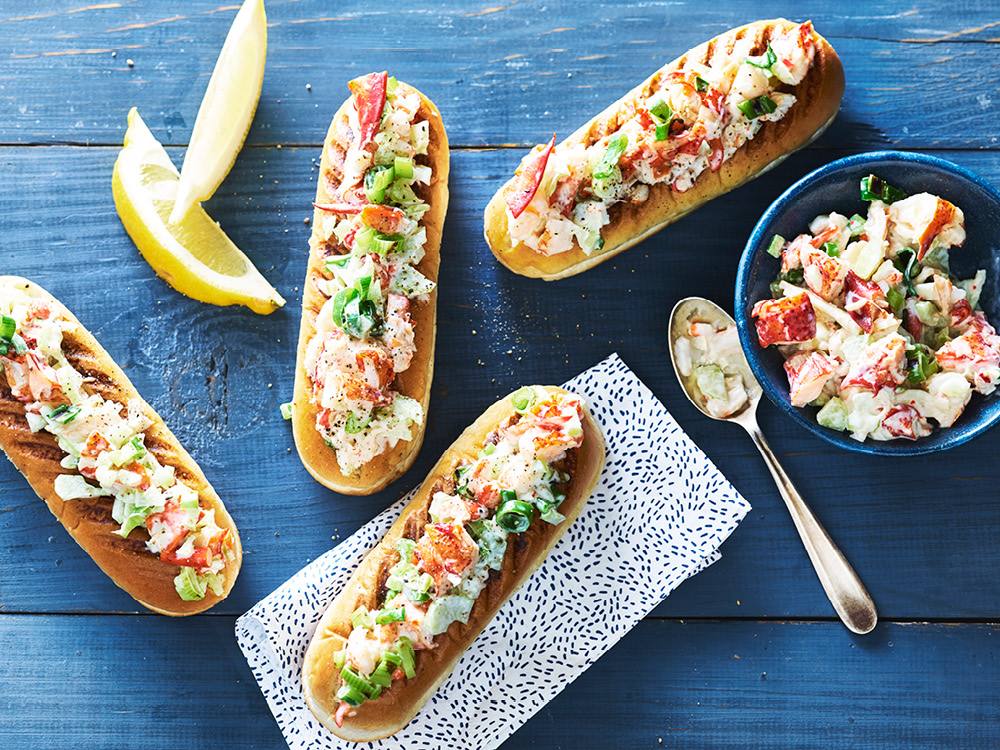 When it's time to celebrate, or treat yourself just because, lobster is always a winner. Succulent, sweet, and buttery, there's a reason it's considered the king of seafood. Mild members of the onion family, such as chives and scallions, are the ideal choice to add savory dimension to lobster meat without overpowering its naturally delicate flavor. If you don't think a classic lobster roll could get any better, try this summery version topped with green onions lightly charred on the grill.