Whether you prefer a classic or something a bit more out of the box, grilled cheese is for everyone. Here are some of our favorite grilled cheese tips, surprising add-ins and flavor-packed combinations. Which one is your favorite?
Follow our easy tips to build your best grown-up grilled cheese!
1. Upgrade your cheese
Reach for artisan cheese like brie, gouda and fresh mozzarella.
2. Don't shy away from fruits
Fruits like apple slices, blueberries and peaches are the perfect compliment to artisan cheese.
3. Sneak in the veggies
Amp up the nutrition by hiding veggies like broccoli, spinach and sundried tomatoes. You'll be surprised just how much you love the flavor combos.
4. Go beyond basic bread
Say goodbye to basic white bread and reach for options like whole grain, rye, pumpernickel or even cinnamon swirl bread.
No matter what you have on hand, your grilled cheese sandwich is going to turn out great. Here are a few ways your can switch it up!
Blueberry, Ham, and Brie Grilled Cheese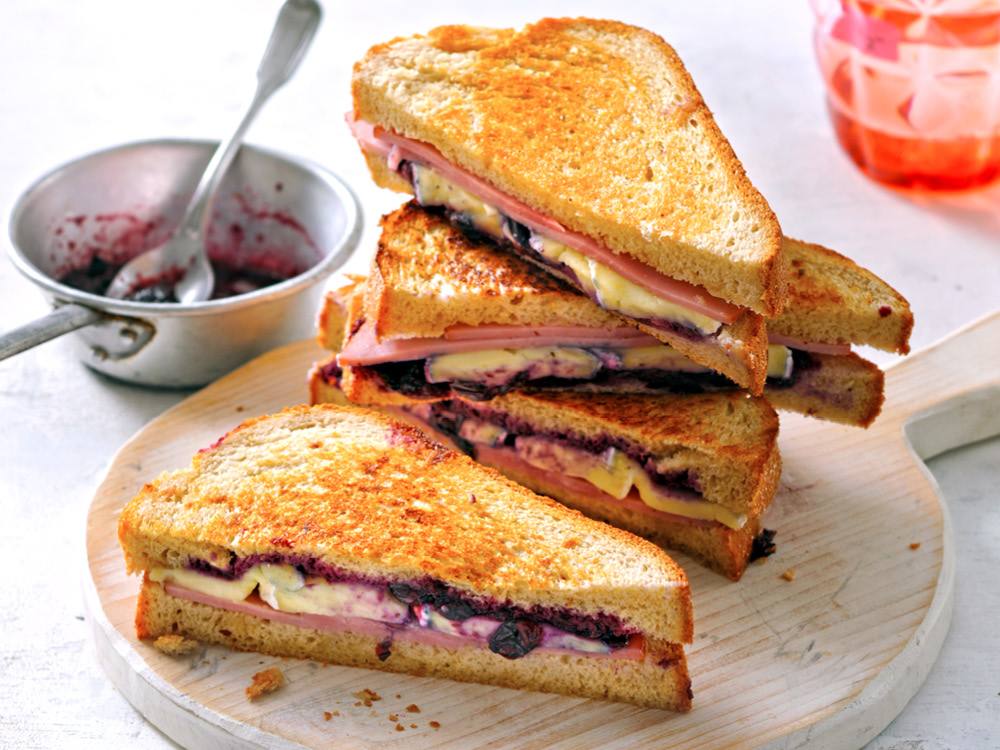 This sweet and savory sandwich features blueberries cooked into a simple jam and gooey cheese.
Sun-Dried Tomato and Goat Cheese Grilled Cheese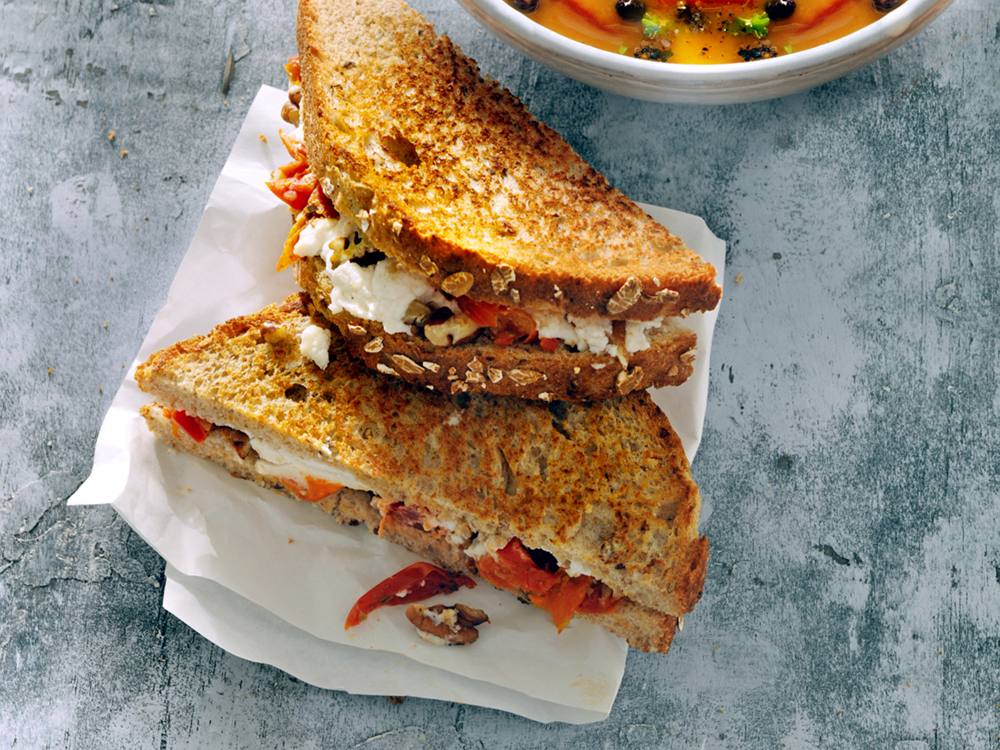 Pecans bring unexpected crunch to this sandwich that contrasts tart dried tomatoes with creamy goat cheese.
Broccoli and Brie Grilled Cheese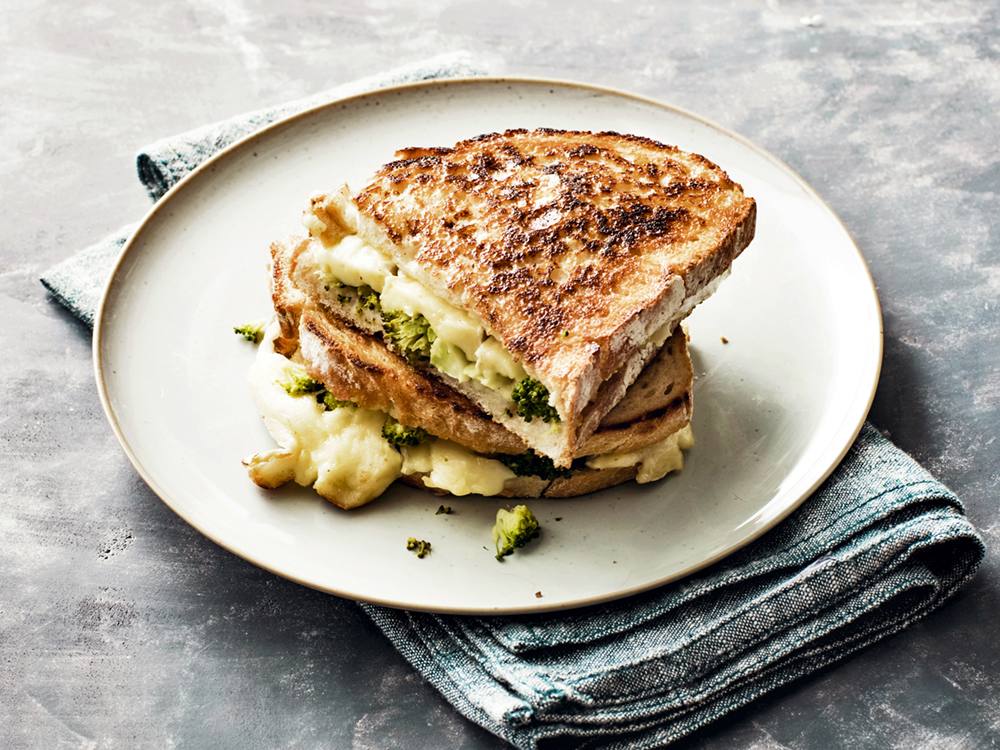 Tucking veggies into this cheesy sandwich is a great way to up its nutrition while still enjoying one of your favorite comfort foods.
Gouda and Apple Grilled Cheese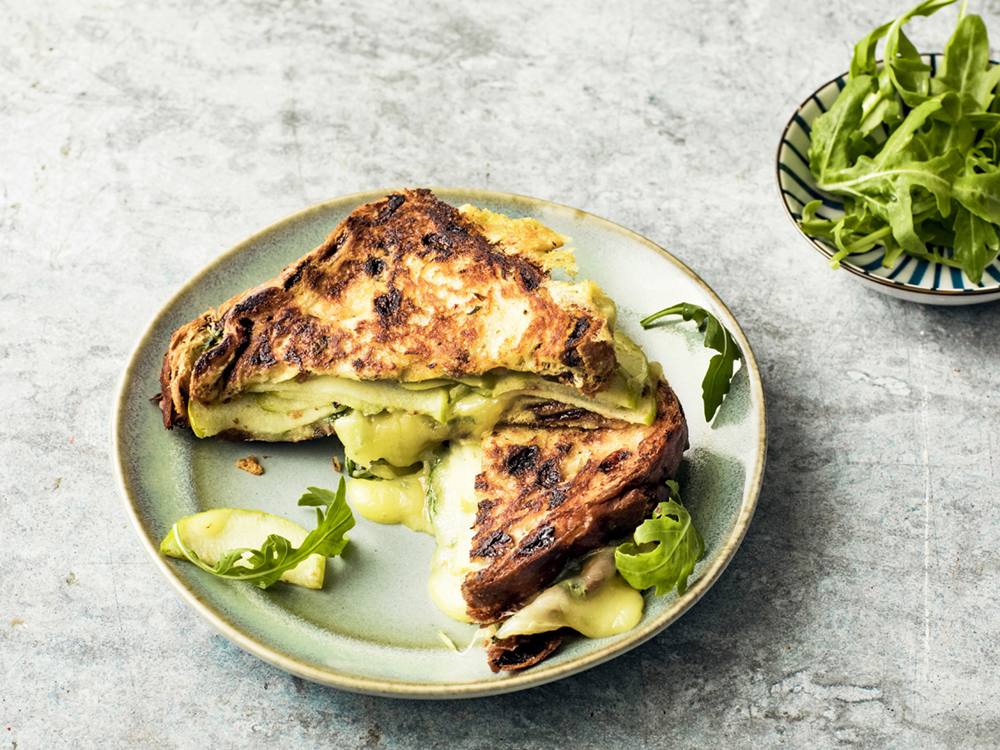 For lovers of sweet and savory combos, this sandwich checks off all the boxes. Raisin-studded cinnamon bread is balanced by sharp Gouda cheese, fresh arugula, and crunchy tart apples.
Reuben Grilled Cheese Sandwiches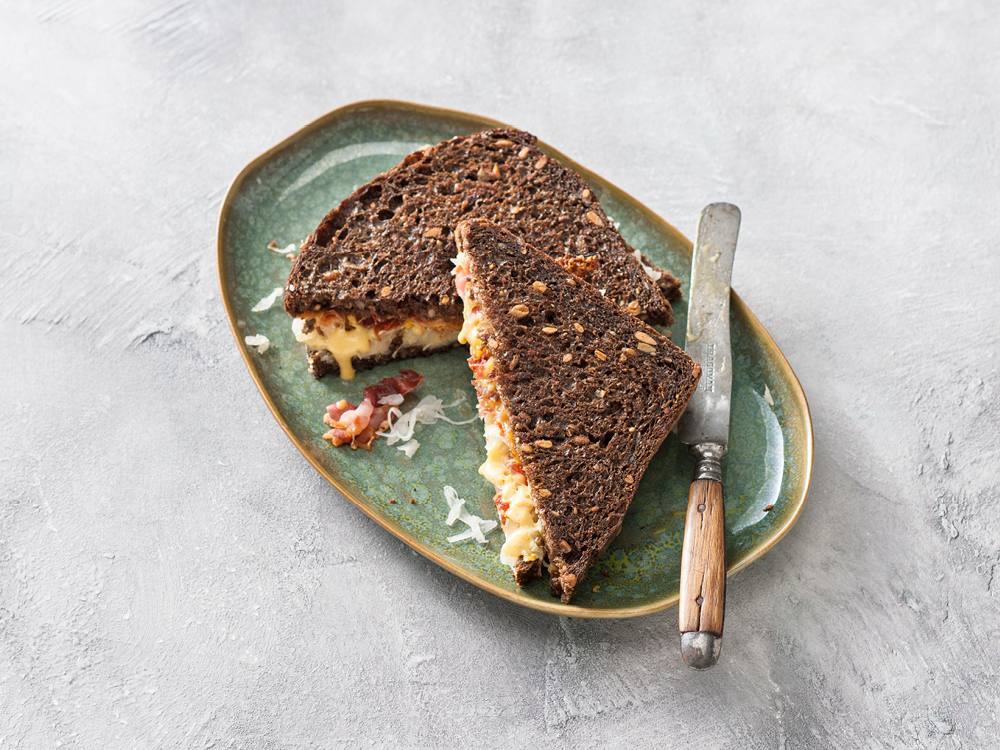 Loading up all the familiar flavors of a deli fave–in this case, a decadent reuben–between two slices of whole-grain bread means picky eaters will never notice the swap-out.
Grilled Cheese with Brie and Cranberry Sauce Inspiration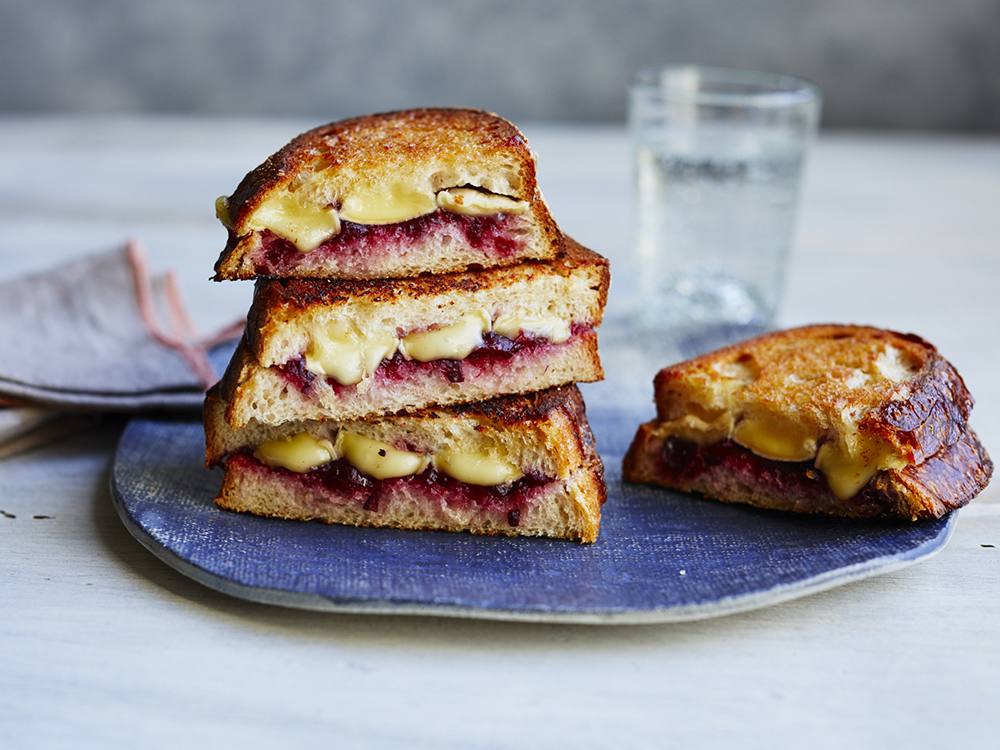 Spread 2 sourdough bread slices with softened butter. Spread the other side of one slice with leftover cranberry sauce; top with sliced Brie and the remaining bread slice, butter-side up. Cook in a skillet until cheese melts.
Peach Caprese Grilled Cheese Sandwiches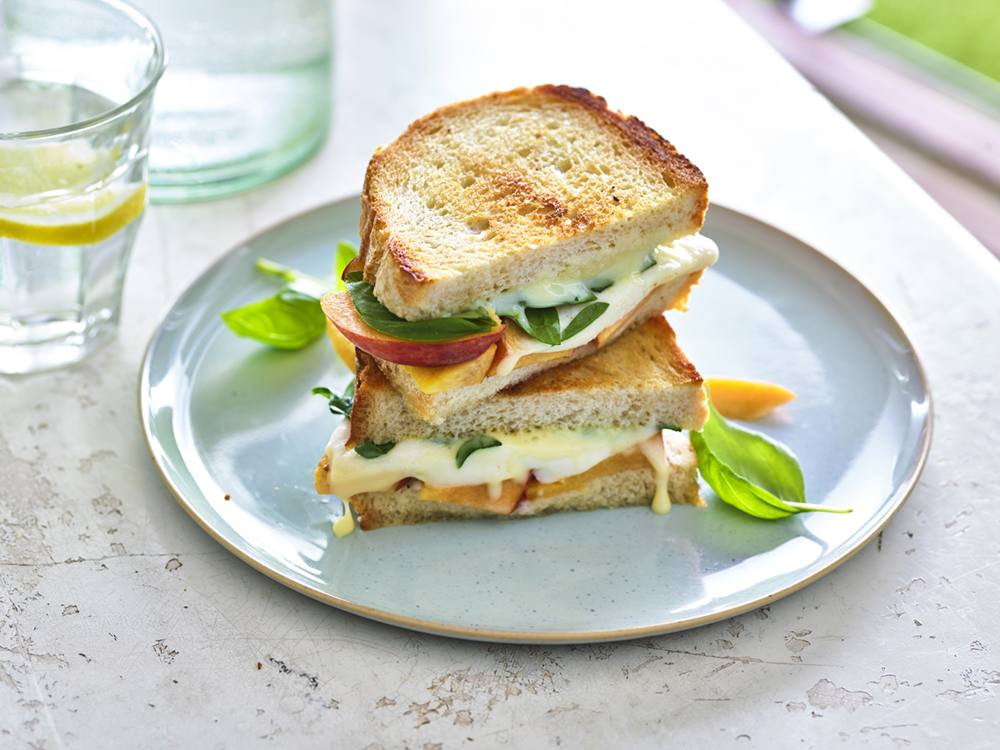 The classic tricolor Italian salad gets a summery sandwich twist with the addition of sweet peaches and bright balsamic vinegar.
Grilled Mozzarella, Spinach, and Red Pepper Sandwiches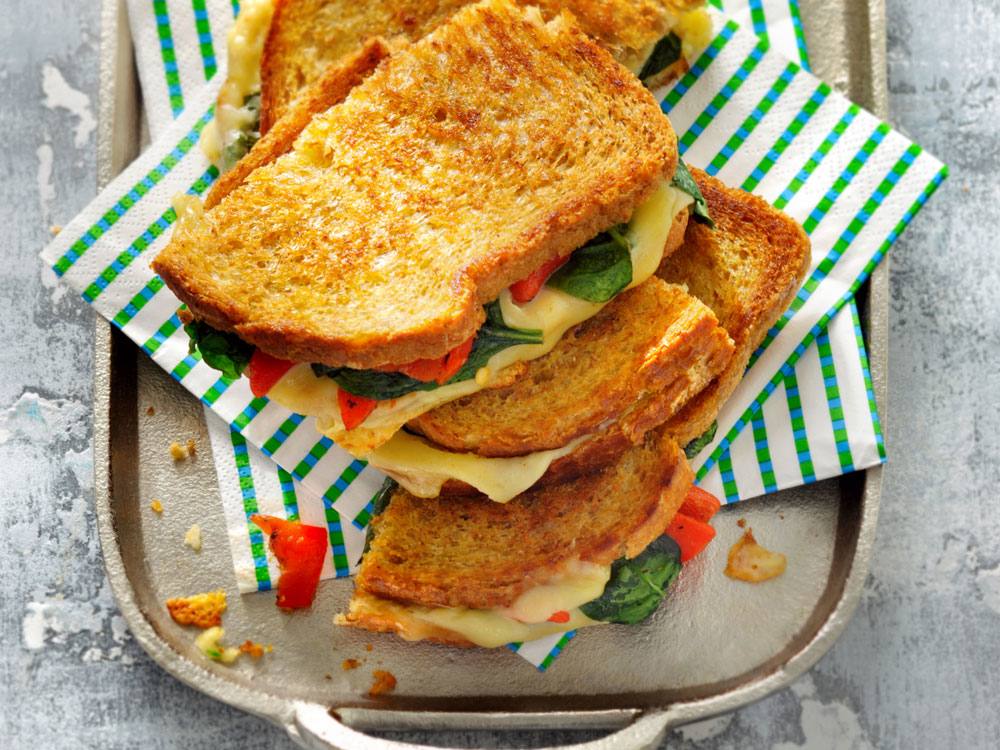 More cheese please! This sophisticated take on a grilled cheese is an easy way to enjoy comfort food on a weekday.