Kick start your new year's resolutions by bumping up the veggies in your recipes. A great way to eat more vegetables is to substitute them for other things that we're used to eating, so it doesn't even seem like anything is different! Whether you're trying to just add more veggies or go completely plant-based, there's some tricks to what ingredients can best be substituted in different scenarios. Take on these ideas as a fun way to explore new recipes or fall back in love with old ones. We've gathered up our 11 favorite substitutions for you to sneak in a little extra nutritious surprise and added some recipes for inspiration!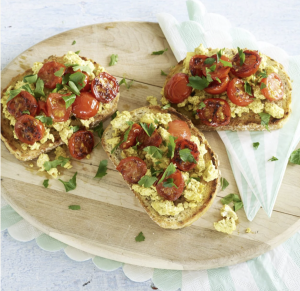 Tofu 
Also called bean curd, tofu is one of the most thought of ingredients for doing a quick meat swap. Soy milk is processed into a block that is pressed until silken, soft, firm, extra firm, or super firm. While tofu has a neutral flavor, it shines when paired with flavorful sauces or marinades. Try using it as a filling in our Black Bean and Tofu Tacos, for breakfast with our Scrambled Tofu with Tomatoes, or in place of grilled chicken in our Grilled Tofu over Summer Squash Salad.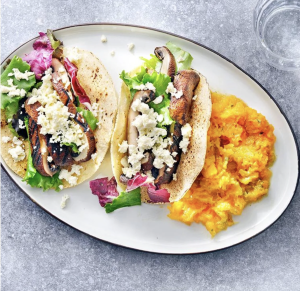 Mushrooms  
Mushrooms are known for having a beefy, meaty flavor. This versatile ingredient can be cooked whole as a burger, pulled for "pulled pork", or diced finely and folded into ground meat to stretch it. Check out our Balsamic Portobello Burger with Spinach and Horseradish Cheddar for your next backyard cookout, or our Grilled Mushroom Tacos and Butternut Squash Mash  for an easy weeknight meal. To help your ground beef go further, try our hearty Mushroom-Beef Burgers.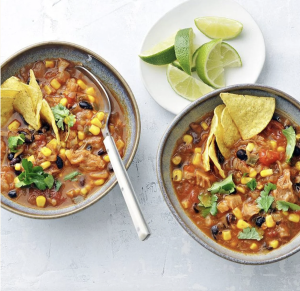 Jackfruit 
This ancient fruit has stolen the spotlight recently in the plant-based world. Native to South and Southeast Asia, underripe jackfruit has a fibrous texture that is similar to pulled meats. Try stirring some into our Vegan Tortilla Soup.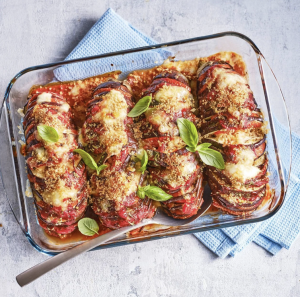 Eggplant  
This meaty vegetable is used around the world and comes is a range of shapes and colors. It can be grilled as a steak or roasted until tender. You can also thinly slice it and fry until crispy to make fake bacon! Our Eggplant Parm Sandwiches are a fun twist on the meatless Italian classic.  This 5-ingredient Hasselback Eggplant Parm recipe is sure to please even the biggest carnivores.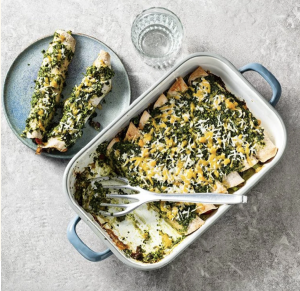 Lentils and Beans  
If you're going plant-based, it's important to make sure you still get plenty of protein. Lentils and beans are perfect substitutes to keep you energized while still adding fiber. From creamy dips to hearty chili to burger substitutes, it's no surprise that lentils and beans are often the center of our favorite plant-based recipes. Try these Black Bean Enchiladas that are stuffed with a black bean-bell pepper filling and topped with a kale salsa verde. For a cottagey classic, our Veggie Shepherds Pie subs hearty lentils for meat in this decadent comfort-food classic.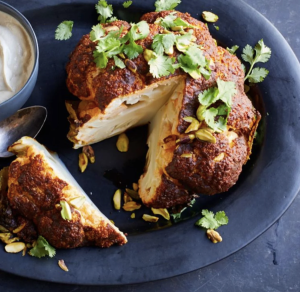 Cauliflower  
While cauliflower is more recently famous as a rice substitute, it's firm texture and neutral flavor make it a great meat substitute as well. You can roast a cauliflower whole like you would a roast chicken, like in our Whole Roasted Cauliflower with Tahini Sauce. For the next game day or game night, try baking off a batch of our Buffalo Cauliflower Bites in place of traditional wings. For a twist on a German and Austrian classic, serve our Cauliflower Schnitzel with a squeeze of lemon juice.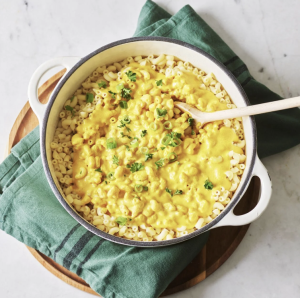 Nuts 
Nuts can stand in similarly to beans and legumes when replacing ground meat. But cashews have quickly become the go-to substitute for making creamy, cheese-like sauces and spreads for plant-based eaters. Try a classic Vegan Mac and Cheese with a homemade cashew cream sauce, or schmear on your own Savory Cashew Cream Cheese onto a bagel or toast.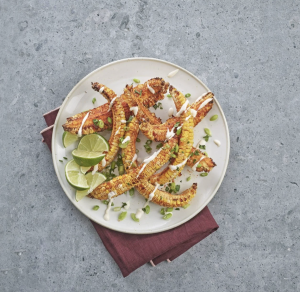 Corn 
Sweet corn is an easy summertime favorite that can also stand in for other warm-weather classics. Instead of New England crab cakes, try these Chickpea and Corn Cakes over baby spinach. If you love the feeling of eating ribs but want to skip on the meat, our Air Fryer Corn Ribs are sure to fill those cravings!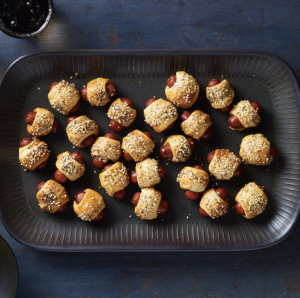 Carrots 
You don't need good eyesight to see this surprising meat swap! Try cooking matchstick carrots until tender to swap in for pulled pork or wrap baby carrots in puff pastry or crescent dough to make vegetarian pigs-in-a-blanket (tip: be sure to bake cook carrots in skillet with butter or oil 12-15 min until carrots are tender before step 2 of the recipe).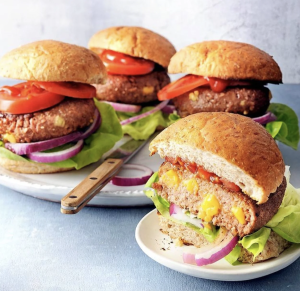 Plant-Based Meat 
This ground meat substitute has become popular for a reason! It has plenty of protein and is easy to work with like traditional ground meat. The classic way to start cooking with a plant-based ground meat is by making burgers! Try our twist on a Juicy Lucy with these Plant-Based Burgers with Cheddar Cubes. Or try a salty-sweet-spicy recipe by cooking up our Grilled Plant-Based Burgers with Pineapple.